2010: #16 – Ivory Tower Cop (George Kirkham & Leonard Territo)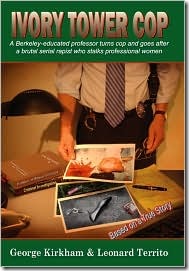 Book #16 was Ivory Tower Cop by George Kirkham and Leonard Territo.  The back of the book reads:
This fast-paced psychiatric thriller is based on police efforts to capture a brutal serial rapist who held a city's professional women in the grip of fear for months, and on the senior author's improbable metamorphosis from a Berkeley-educated university professor to a cop.
This book was a slow starter, but it finished well. I struggled with it a bit until David finally gets through his training and begins work as a detective.  Once you get to the hunt for the rapist/killer, things get interesting.  There's a little bit of a "let's throw everything we can think of" quality to the rapist/killer — homosexuality, white supremacy, mental illness, religion, and more — but you can move past it because you're interested in what David is going to do. The relationship between David and Maria is slow building and believable, and actually adds to the story since it triggers changes in both of them. The ending was a little surprising, but it worked.  All in all, not a bad read! Could have used some better cover art, though.
Page count: 394 | Approximate word count: 98,500
2009: Full Speed (Janet Evanovich)
2008: Dead Until Dark (Charlaine Harris)
2007: Flowers in the Attic (V.C. Andrews)
2006: Blue Moon (Laurell K. Hamilton)
2005: The Austere Academy (Lemony Snicket)
Used in these Challenges: Random Reading Challenge; ARC Reading Challenge 2010; 2010 100+ Reading Challenge; New Author Challenge 2010; Pages Read Challenge Season 2; Thriller & Suspense Reading Challenge; TwentyTen Challenge;