2010: #69 – Broken (Karin Slaughter)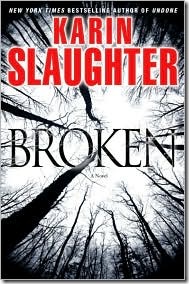 Book #69 was Broken, the 7th book in Karin Slaughter's Grant County series.  The back of the book reads:
Karin Slaughter's internationally bestselling novels are as notable for their vivid portraits of lives shadowed by loss and heartbreak as they are for their dramatic criminal investigations. Her latest offering features the return of her most compelling characters and introduces memorable new ones in a tale of corruption, murder, and confrontation that will leave more than one life . . .

When Special Agent Will Trent arrives in Grant County, he finds a police department determined to protect its own and far too many unanswered questions about a prisoner's death. He doesn't understand why Officer Lena Adams is hiding secrets from him. He doesn't understand her role in the death of Grant County's popular police chief. He doesn't understand why that man's widow, Dr. Sara Linton, needs him now more than ever to help her crack this case.

While the police force investigates the murder of a young woman pulled from a frigid lake, Trent investigates the police force, putting pressure on Adams just when she's already about to crack. Caught between two complicated and determined women, trying to understand Linton's passionate distrust of Adams, the facts surrounding Chief Tolliver's death, and the complexities of this insular town, Trent will unleash a case filled with explosive secrets—and encounter a thin blue line that could be murderous if crossed.

Spellbinding and keenly paced, Broken is Karin Slaughter at her best. Here is an unforgettable story of raw emotions, dangerous assumptions, the deadly and layered game of betrayal, and a man's determination to expose the most painful of human truths—no matter how deeply they're hidden . . . or how devastating.
This is considered to be the 7th book in the Grant County series, which I have not read.  I prefer to think of it as the 3rd book in the Will Trent series, which I *have* read. Will Trent is one of my favorite lead detectives (dyslexia, trust issues, and all), and I enjoyed being introduced to Grant County through his eyes.
A lot happens in this book to change the course of future events in the county.  The dead are primarily outsiders, but the motive is 100% rooted in the local community. I found Sara Linton a little hard to like, but we meet her at a difficult time in her life.  Lena is also difficult, if not impossible, to like, though I'm pretty sure you're not supposed to like her.  She does have a few redeeming qualities, but it's very few. It's funny, but I've noticed that difficult women are a trend in Karin Slaughter's books, at least in her Will Trent books. Even Faith, Will's partner and the most likable woman in Will's life, has her share of rough edges. I'm curious to see if I pick up on the same theme when I get around to the rest of the Grant County series.
I probably would have understood the relationships more completely if I'd read the previous Sara Linton books, but if all you've read is Will Trent, you'll do just fine.
Other reviews:
a lovely shore breeze….: a review of "Broken" [35]
Cheryl's Book Nook: Broken by Karin Slaughter
Broken (Nicola)
Page count: 416 | Approximate word count: 104,000
2009: The Intimate Adventures of a London Call Girl (Belle de Jour)
2008: The Good, the Bad, and the Undead (Kim Harrison)
2007: Death on the Nile (Agatha Christie)
2006: The Deep (Peter Benchley)
2005: Charleston (John Jakes)
Used in these Challenges: ARC Reading Challenge 2010; 2010 100+ Reading Challenge; Pages Read Challenge Season 2; Thriller & Suspense Reading Challenge 2010;