2010: #17 – Outrageous (Christina Dodd)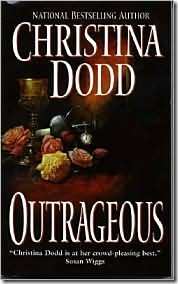 Book #17 was Outrageous by Christina Dodd.  The back of the book reads:
A woman banished

Griffith, battle-seasoned warrior and the king's most trusted emissary, expected to find a shallow, vain, frivolous woman at Wenthaven Castle. After all, as lady-in-waiting to the queen, lovely Lady Marian had been in a position of privilege, yet she had been banished from the court. And the rumors were that she had given birth to an illegitimate child.

An outrageous offer

When he arrived, Griffith found Lady Marian to be strong, intelligent and fiercely protective of the young baby in her custody…. and very suspicious of him. If he were smart, the knight would just deliver the message with which he had been entrusted. Instead, he longs to linger to delve into the mystery that is Marian, to discover what she so desperately fears-and why he so improperly wants her.
This wasn't too bad, for a historical romance.  It's set at the beginning of the reign of Henry VII, the father of the notorious Henry VIII, though none of it actually takes place at court.  However, Henry VII does play a large role. Political intrigue is the driving force behind most of the plot. The romance between Marian and Griffith could have been a little more developed — they went from lust to love very quickly — but there were things I enjoyed.  The dialogue, though not completely historically accurate, is more fitting than the speech patterns of today that are often used in historical romances. Also, I like the twisting intrigue of court. I'm liking Christina Dodd, and I'll definitely be reading more of her books.
Page count: 384 | Word count: 105,341
2009: Kiss of the Night (Sherrilyn Kenyon)
2008: Relic (Douglas Preston & Lincoln Child)
2007: At Bertram's Hotel (Agatha Christie)
2006: Cerulean Sins (Laurell K. Hamilton)
2005: The Hearing (John Lescroart)
Used in these Challenges: The Four Month Challenge; Random Reading Challenge; 2010 100+ Reading Challenge; E-book Reading Challenge; Pages Read Challenge Season 2; Year of the Historical;