2010: #18 – Anthem (Ayn Rand)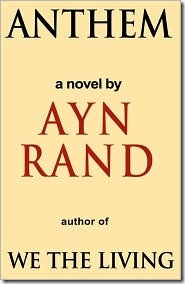 Book #18 was Anthem by Ayn Rand.  The back of the book reads:
Ayn Rand's classic tale of a future dark age of the great "We"–in which individuals have no name, no independence, and no values–is a beautifully written, powerful novel that projects current social trends into the future, and anticipates such later Rand masterpieces as The Fountainhead and Atlas Shrugged.
Even if you don't agree with Ayn Rand's politics, I think this is a worthwhile read.  It's really about the importance of individualism and the dangers of collectivism, and the idea that independence can never be eradicated. Not a surprising message from a teenager growing up in Soviet Russia. Despite being born into a society where you are only a cog in the system and must do what you are told because there is no other option, Equality 7-2521 discovers that he has desires and needs that his society can't fulfill. If you had the desire to learn and create, could you voluntarily turn it off? It took me probably half the book to get comfortable with the words "we" and "they" referring to both one person and many, but once you can wrap your brain around that, the book is an easy read.
As a side note, I just discovered that Ayn Rand shares my birthday! (February 2nd)
Other reviews:
lifeisapatchworkquilt.com » Book Review: "Anthem" by Ayn Rand
Anthem by Ayn Rand « 1morechapter.com
Behold, the thing that reads a lot: Anthem by Ayn Rand: Thoughts
T.V And Book Addict: Anthem by Ayn Rand
Anthem by Ayn Rand | Rebecca Reads
Page count: 68 | Approximate word count: 19,500
2009: China Lake (Meg Gardiner)
2008: Triptych (Karin Slaughter)
2007: Fool Moon (Jim Butcher)
2006: Incubus Dreams (Laurell K. Hamilton)
2005: The Big Bad Wolf (James Patterson)
Used in these Challenges: The Four Month Challenge; 2010 100+ Reading Challenge; E-book Reading Challenge; New Author Challenge 2010; Pages Read Challenge Season 2; TwentyTen Challenge;