2021: #54 – The Royal We (Heather Cocks & Jessica Morgan)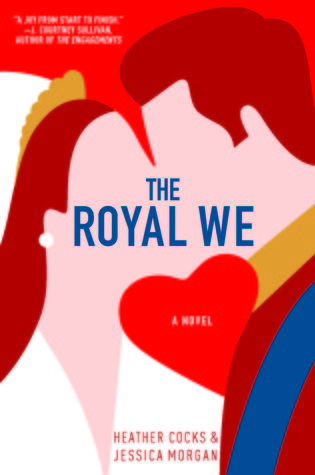 The Royal We
by
Heather Cocks
,
Jessica Morgan
Series:
Royal We #01
Published by
Grand Central Publishing
on April 7, 2015
Genres:
contemporary romance
Pages:
454


"I might be Cinderella today, but I dread who they'll think I am tomorrow. I guess it depends on what I do next."

American Rebecca Porter was never one for fairy tales. Her twin sister, Lacey, has always been the romantic who fantasized about glamour and royalty, fame and fortune. Yet it's Bex who seeks adventure at Oxford and finds herself living down the hall from Prince Nicholas, Great Britain's future king. And when Bex can't resist falling for Nick, the person behind the prince, it propels her into a world she did not expect to inhabit, under a spotlight she is not prepared to face.

Dating Nick immerses Bex in ritzy society, dazzling ski trips, and dinners at Kensington Palace with him and his charming, troublesome brother, Freddie. But the relationship also comes with unimaginable baggage: hysterical tabloids, Nick's sparkling and far more suitable ex-girlfriends, and a royal family whose private life is much thornier and more tragic than anyone on the outside knows. The pressures are almost too much to bear, as Bex struggles to reconcile the man she loves with the monarch he's fated to become.

Which is how she gets into trouble.

Now, on the eve of the wedding of the century, Bex is faced with whether everything she's sacrificed for love-her career, her home, her family, maybe even herself-will have been for nothing.
This was a "normal girl meets prince" contemporary romance. Bex Porter is just an normal girl from America's Heartland when she shows up at Oxford for a study abroad year in the rain. Little does she realize, the boy who opens the door and shows her to her room is the future King of England, Nick. They start off as friends, but soon realize they would like to be more. How much more? Well, the story's prologue takes place right before their wedding, but things aren't going quite as planned.
This book was on the too long side, and there are a ton of characters to keep track of, but overall I found it entertaining. It really went into the ways that becoming part of the royal family wouldn't be a picnic (something that's become more apparent since Harry married Megan), though I longed for Nick to stand up and have some more agency. One thing I didn't really care for is the way Bex's sister Lacey's terrible behavior is just hand-waved away. Also, it's not very hard to figure out who the bad guy was going to be, though I underestimated their reach.
I will probably read the next book eventually, but I'm not feeling pulled towards it.
I read this for the following reading challenges:
Other reviews:
"As I said, it was a difficult book to review but I think I would settle with 3 stars. It satisfied my desire to read something in the vein of the royal wedding and it was a book that I continued to think about even after I put it down…..I often found myself having internal dialogue about the characters however the plot was a little too depressing and I literally still hate Lacey and could never forgive her." — The Lit Bitch
"While an entertaining read, it also elucidates the drawbacks of being royal. Many people, myself included, would be elated to live in a palace, have enough money to afford a certain type of lifestyle, wear designer clothes, and never worry about a career. This book highlights the underbelly – privacy concerns, never having a choice, always feeling like you are being watched – in an accessible way." — Book Love Blog
"If you need a royal romance to keep you satisfied until the next Netflix Christmas movie is released, The Royal We is it. The Royal We is perfect for royal watchers and chick lit lovers." — A Splendid Messy Life