2010: #23 – Black Seconds (Karin Fossum)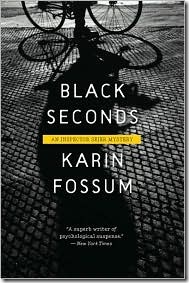 Book #23 was Black Seconds, the fifth book in Karin Fossum's Inspector Sejer series.  The back of the book reads:
Ida Joner gets on her brand-new bike and sets off toward town. A good-natured, happy girl, she is looking forward to her tenth birthday. Thirty-five minutes after Ida should have come home, her mother starts to worry. She phones store owners, Ida's friends, anyone who could have seen her. But no one has.

Suspicion immediately falls on Emil Mork, a local character who lives alone and hasn't spoken since childhood. His mother insists on cleaning his house weekly—although she's sometimes afraid of what she might find there. A mother's worst nightmare in either case: to lose a child or to think a child capable of murder. As Ida's relatives reach the breaking point and the media frenzy surrounding the case begins, Inspector Konrad Sejer is his usual calm and reassuring self. But he's puzzled. And disturbed. This is the strangest case he's seen in years.
This book is part of a detective series, but it's written like literary fiction. I thought there was some really fantastic imagery; for example, this passage, which alludes to the book's title:
Her heart was pounding hard and it hurt; she could hear the clock on the wall ticking mechanically.  She had always thought of seconds as tiny metallic dots; now they turned into heavy black drops and she felt them fall one by one.
That stuck with me throughout the entire book, and we're brought back to it in the end as Ida's cousin Tomme hears a ticking in his head. The plot here consists of several strings that Inspector Sejer masterfully manages to pull together as one. We're treated to the points of view of several people — Sejer and his partner, Jacob Skarre; Ida's mother, Helga; Ida's aunt, Ruth; Tomme; and even Elsa and Emil Johannes Mork — and this gives us a more well-rounded view of the story.  Unlike other crime series, the focus here is much more on the story than on one single character. I thoroughly enjoyed this, and look forward to exploring more of Fossum's work. This emerging genre of "nordic noir" is quickly becoming one of my favorites.
Other reviews:
MYSTERIES in PARADISE: Review: BLACK SECONDS, Karin Fossum
Lynda's Book Blog: Black Seconds by Karin Fossum
Audiobook length: 9 hrs | Approximate word count: 81,600
2009: An Ice Cold Grave (Charlaine Harris)
2008: Whitewash (Alex Kava)
2007: Op-Center (Tom Clancy)
2006: The Kite Runner (Khaled Hosseini)
2005: Blue Gold (Clive Cussler)
Used in these Challenges: The Four Month Challenge; Countdown Challenge 2010; 2010 100+ Reading Challenge; Audiobook Challenge; New Author Challenge; TwentyTen Challenge;