2010: Sunday Salon – Bad Luck Edition
I seem to have had a string of bad luck with books lately!  I've had to abandon three books in the past month or so.  So disappointing.  I'm not doing full reviews of books I don't finish, but I thought I'd write a little about them here.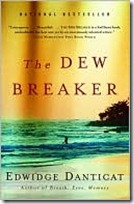 The Dew Breaker by Edwidge Danticat
This collection of short stories just didn't grab me. The first two stories were great, and then the book started to lose me. Maybe in a different frame of mind I would have had a different reaction. I think I expected the stories to be more closely related.
Veracity by Laura Bynum
Unfortunately, this book and I didn't click. I gave it 50 pages, and found that I just didn't care about picking it up to read further. I think the book is well written and probably has an interesting story, it just wasn't for me. I was definitely more interested in Harper's childhood story rather than her adult story, and I may have stuck with it longer if more of that had been at the beginning. There wasn't enough back story to make me care about Harper as an adult. But, if you are a fan of this genre, I think it's worth grabbing the Kindle sample and seeing if it works for you.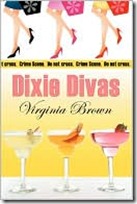 Dixie Divas by Virginia Brown
I made it 50 pages into this bound manuscript, which means it was probably more like 75 in the actual book. This had all of the right ingredients — it's a cozy mystery with a humorous tone where the "detectives" are a group of quirky southern ladies. But it ended up being too much.  Too much explanation, and TOO MUCH DESCRIPTION.  And not the clever, imaginative sorts of description.  This was the "there was a couch to the right with a painting above it and a staircase over to the left, flanked by a couple of lovely vases" type of description.  I was starting to feel like I knew the location of every doorway and staircase in town. And I got the point about how the main character's parents were living a second childhood first, when the author told us they were, and second, the *first* time they started planning an outrageous trip.  I didn't really need it pointed out over and over again.  So yeah, it was too much.  I might have stuck with it longer if it had been a regular sized galley and not a bound manuscript, but the slowness of the story combined with the unwieldiness of the book did it in.
In other news, I've signed up for the Read-a-Thon in 2 weeks. We'll see if I do better than last time! What I *really* need is a blog-a-thon, as I'm currently 6 reviews in arrears.  I don't think I've been caught up yet in the year 2010. I had some work travel and personal travel and then moved offices at my job, so maybe things will calm down a little and I can get some review writing done!
Have a great week!