2010: #22 – The Seventh Commandment (Lawrence Sanders)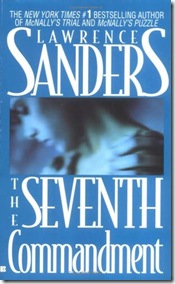 Book #22 was The Seventh Commandment by Lawrence Sanders.  The back of the book reads:
When jewelry magnate Lewis Starrett is stabbed to death, insurance investigator Dora Conti must determine if the family's claim should be honored. For all is not as it seems in the Starrett empire, and soon Dora is drawn into a world of greed, corruption, and . . . temptation.
So what is the seventh commandment? Unless you are Catholic or Lutheran, the seventh commandment is "You shall not commit adultery." If you are Catholic or Lutheran, it's "You shall not steal", which also works in this storyline. But mainly, the title is referring to adultery.  Woven in to all of this adultery (or possible adultery) is a caper involving a jewelry empire and the trading of gold. And greed, and drugs, and a little bit of conning, too. I liked the mystery part of the book, but the adultery stuff rubbed me the wrong way.  I actually would have liked to see Dora and police detective John get together, but not when she is supposedly "happily married".  If the author wanted her to seriously consider cheating on her husband, he should have at least made the husband some sort of scumbag.  I think I would have been happy with the adultery being limited to the other players in the story and leave our main character out of it.
Page count: 368 | Word count: 76,031
2009: Dead to the World (Charlaine Harris)
2008: Living Dead in Dallas (Charlaine Harris)
2007: A Death in Belmont (Sebastian Junger)
2006: A Long Way Down (Nick Hornby)
2005: The Bastard (John Jakes)
Used in these Challenges: The Four Month Challenge; Random Reading Challenge; 2010 100+ Reading Challenge; Reading From My Shelves Project; 2nd Reading Challenge; Pages Read Challenge Season 2;