2010: #80 – Stalking Susan (Julie Kramer)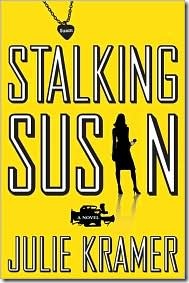 Book #80 was Stalking Susan, the first book in Julie Kramer's Riley Spartz series.  The back of the book reads:
Inside the desperate world of TV news, a reporter discovers a serial killer is targeting women named Susan.

Riley Spartz is recovering from a heartbreaking, headline-making catastrophe of her own when a Minneapolis police source drops two homicide files in her lap. Both cold cases involve women named Susan strangled on the same day, one year apart. Riley sees a pattern between those murders and others pulled from old death records. As the deadly anniversary approaches, she stages a bold on-air stunt to draw the killer out and uncover a motive that will leave readers breathless.
This is one of my favorite new series.  Julie Kramer has hit the mark with a kicky main character, solid supporting cast, and suspenseful mystery. Not necessarily suspenseful in the sense that the bad guy is a surprise, but suspenseful in the sense that there are unexpected twists and turns along the way. I enjoyed her camaraderie with ex-policeman Garnett, but was a little disappointed that their relationship took the predictable "I like you, don't you like me too?" turn. I liked the behind-the-scenes look into TV news and all its politics and back-stabbing, and thought it gave us a fresh perspective on the usual "amateur detective" story. I listened to this on audio, and thought the narrator, Bernadette Dunne, did a great job.  I often have problems listening to books with female narrators (it seems there's a much higher chance of me finding their voices grating), but no such problems here.  I've already put the next two books in the series on my wish list.
Other reviews:
My Favourite Books: Stalking Susan by Julie Kramer
Audiobook length: 9 hrs 17 min | Approximate word count: 108,000
2009: Spook (Mary Roach)
2008: Fat Tuesday (Sandra Brown)
2007: The Killing Game (Iris Johansen)
2006: Strip Tease (Carl Hiaasen)
Used in these Challenges: 2010 100+ Reading Challenge; 1st in a Series Challenge; Audiobook Challenge; New Author Challenge 2010;