2010: #30 – Desert Heat (J.A. Jance)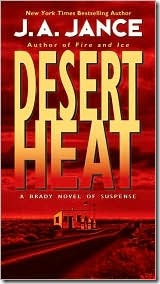 Book #30 was Desert Heat, the first book in J.A. Jance's Joanna Brady series.  The back of the book reads:
A cop lies dying beneath the blistering Arizona sun—a local lawman who may well have become the next sheriff of Cochise County. The police brass claim that Andy Brady was dirty, and that his shooting was a suicide attempt. Joanna Brady, his devoted wife and mother of their nine-year-old daughter, knows a cover-up when she hears one . . . and murder when she sees it. But her determined efforts to hunt down an assassin and clear her husband's name are placing Joanna and her surviving family in harm's way—because in the desert, the one thing more lethal than a rattler's bite . . . is the truth.
This was a brand new series to me, and I was pleasantly surprised by it. Joanna is an interesting character.  Younger than you would expect, strong-willed, smart, and dedicated to her family. They rally around her, even though they're grieving too. The mystery is compelling, though there are a lot of pieces that have to be woven together.  The reader knows rather early who actually killed Andy Brady, but what we don't really get until the end is the why. The end is a nice lead-in to the rest of the series.
Page count: 352 | Word count: 74,713
2009: The Chemist (Janson Mancheski)
2008: Grave Sight (Charlaine Harris)
2007: The Bone Collector (Jeffery Deaver)
2006: Visions in Death (J.D. Robb)
2005: Jackdaws (Ken Follett)
Used in these Challenges: Four Month Challenge; 2010 100+ Reading Challenge; 1st in a Series Challenge; E-Book Reading Challenge; New Author Challenge 2010; Pages Read Challenge Season 2;