2010: #91 – Without Mercy (Lisa Jackson)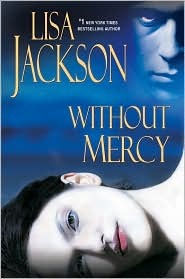 Book #91 was Without Mercy by Lisa Jackson. The back of the book reads:
Ever since her father was stabbed to death in a home invasion, Julia "Jules" Farentino has been plagued by nightmares. Her half-sister, Shaylee, now seventeen, has had her own difficulties since the tragedy, earning a rap sheet for drug use, theft, and vandalism. Still, when Jules learns of her mother's decision to send Shay to an elite boarding school in Oregon, she's skeptical. Blue Rock Academy has a reputation for turning wayward kids around — but one of its students went missing a few months earlier and her body has never been found.

On impulse, Jules applies for a teaching job at the Academy. Shortly before Jules arrives, a student is found hanged, another near death, and a hysterical Shay believes it's murder. Then another girl is found dead. There's no doubt something sinister is at hand. And Jules has become the next target of a bloodthirsty killer without limits, without remorse, without mercy…
I thought this was just okay.  It's hard to like Shaylee, who is really a little brat at the beginning, and therefore it's a little difficult to understand why Jules would go to the lengths she does, and why she's so quick to suspect the school of wrongdoing.  One missing student doesn't really seem to be enough. Not to mention how quickly she gets hired as a teacher at such a specialty school, with a seemingly minimal background check and no experience with troubled kids. Not to mention the cowboy cop/P.I. who is suddenly qualified as well.  There's a little bit of heat between Jules and Cooper, but nothing special.  And you're just supposed to take for granted that they've never gotten over each other.
I've seen other reviews that refer to the story as a "mish mash", and they're pretty spot on.  The problems at the school end up being so out there that they're unbelievable. And frankly, the surprise ending wasn't much of a surprise.
This book was a review copy.
Page count: 432 | Approximate word count: 108,000
2009: Engleby (Sebastian Faulks)
2008: Dark of the Moon (P.J. Parrish)
2007: Black Creek Crossing (John Saul)
2006: Year Zero (Jeff Long)
Used in these Challenges: ARC Reading Challenge 2010; 2010 100+ Reading Challenge; Pages Read Challenge Season 2;