2010: #45 – Shelter Mountain (Robyn Carr)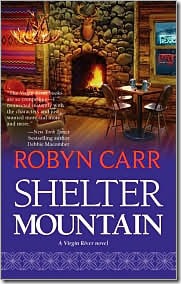 Book #45 was Shelter Mountain, the second book in Robyn Carr's Virgin River series.  The back of the book reads:
John "Preacher" Middleton is about to close the bar when a young woman and her three-year-old son come in out of the wet October night. A marine who has seen his share of pain, Preacher knows a crisis when he sees one—the woman is covered in bruises. He wants to protect them, and he wants to punish whoever did this to her, but he knows immediately that this inclination to protect is something much more. Paige Lassiter has stirred up emotions in this gentle giant of a man-emotions that he has never allowed himself to feel.

But when Paige's ex-husband turns up in Virgin River, Preacher knows his own future hangs in the balance. And if there's one thing the marines' motto of Semper Fidelis—always faithful—has taught him, it's that some things are worth fighting for.
This was a pretty good second book in the series, keeping us tied to our initial characters, Jack and Mel, but really focusing on other characters in their orbit.  This book isn't just about Preacher and Paige, it's about Jack and Mel and their baby, Jack's protege, Rick and his girlfriend, and there's a significant amount of set-up for the next book, about Jack's sister Brie and his Marine buddy, Mike. There's nothing special in the plot, and very few surprises — you know the "wronged", abusive husband isn't going to go quietly, and the independent, plucky midwife isn't going to have a routine birth. The strength in this series is in the characters, and Carr is able to make us fall in love with every one of them, even when they are over-the-top and too good to be true.
Other reviews:
not enough books: Shelter Mountain by Robyn Carr
Shelter Mountain by Robyn Carr « Scooper Speaks
Page count: 363 | Approximate word count: 90,750
2009: First Family (David Baldacci)
2008: Grave Surprise (Charlaine Harris)
2007: Through Violet Eyes (Stephen Woodworth)
2006: Eveless Eden (Marianne Wiggins)
2005: King's Oak (Anne Rivers Siddons)
Used in these Challenges: Countdown Challenge 2010; 2010 100+ Reading Challenge; Contemporary Romance Reading Challenge 2010; Pages Read Challenge Season 2;