2009: #95 – Rising Tides (Nora Roberts)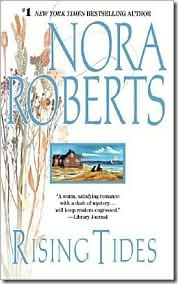 Book #95 was Rising Tides, the second book in Nora Roberts' Quinn Brothers series.  The back of the book reads:
Nora Roberts presents the second novel in a dramatic trilogy of three men who return home to honor their father's last wish. Of the three brothers, it was Ethan who shared his father's passion for the Maryland shore. And now with his father gone, Ethan is determined to make the family boatbuilding business a success. But amidst his achievements lie the most important challenges of his life.
I really enjoyed this second book in the Quinn Brothers series.  This book focuses on the love story between Ethan and Grace, the single mother who cleans their house and who the brothers have known since they were kids.  The thread that ties the books together has to do with Seth, the youngest foster brother.  The way he ended up as part of the family wasn't entirely through the proper legal channels, so there is concern about his mother showing up in his life again.  That storyline doesn't really go far in this book, but the stage was set for some dramatic happenings in the next.  And, in true Nora Roberts sibling saga fashion, there's a ghost lurking in the background.  I could actually do without that part, but I understand what she's trying to do.  Also, she does a wonderful job of bringing the Chesapeake Bay setting to life.  I'll definitely be finishing this series.
Audiobook length: 10hrs 11min | Word count: 95,077
2008: Sweetheart (Chelsea Cain)
2007: The Spellman Files (Lisa Lutz)
2006: The Lost Boy (Dave Pelzer)
Used in these Challenges: 100+ Reading Challenge 2009;