2010: #53 – Worst Case (James Patterson & Michael Ledwidge)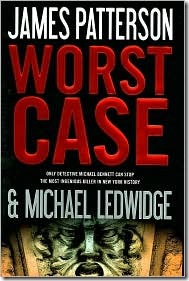 Book #53 was Worst Case, the third book in the Michael Bennett series by James Patterson and Michael Ledwidge.  The back of the book reads:
Best case: survival
The son of one of New York's wealthiest families is snatched off the street and held hostage. His parents can't save him, because this kidnapper isn't demanding money. Instead, he quizzes his prisoner on the price others pay for his life of luxury. In this exam, wrong answers are fatal.

Worst case: death
Detective Michael Bennett leads the investigation. With ten kids of his own, he can't begin to understand what could lead someone to target anyone's children. As another student disappears, one powerful family after another uses their leverage and connections to turn the heat up on the mayor, the press–anyone who will listen–to stop this killer. Their reach extends all the way to the FBI, who send their top Abduction Specialist, Agent Emily Parker. Bennett's life–and love life–suddenly get even more complicated.

This case: Detective Michael Bennett is on it
Before Bennett has a chance to protest the FBI's intrusion on his case, the mastermind changes his routine. His plan leads up to the most devastating demonstration yet–one that could bring cataclysmic devastation to every inch of New York. From the shocking first page to the last exhilarating scene, Worst Case is a non-stop thriller from "America's #1 storyteller" (Forbes).
I was pleasantly surprised by this, based on the last few of the newer Patterson books I've read.  I enjoyed the first Michael Bennett novel, Step on a Crack, but found the manufactured emotion around his wife's death to be so horribly schmaltzy that I almost gave up on the series. I didn't read the second book, but you can enjoy this third book without reading either of the other two (though it does help to know why Bennett has 10 kids). Like many of Patterson's villains, Francis X. Mooney is more than a little crazy, and his unpredictability adds the appropriate amount of suspense to the storyline. I liked the addition of FBI agent Emily Parker, and hope we haven't seen the last of her. Patterson is still no longer a must-read author for me, but this novel gives me hope.
Other reviews:
Crazy-for-Books.com: Review: Worst Case by James Patterson
Starting Fresh: Book Review of Worst Case by James Patterson
JUST BOOKS: REVIEW – WORST CASE
Worst Case by James Patterson and Michael Ledwidge (Audio)
Socrates' Book Reviews: Worst Case by James Patterson
Page count: 368 | Approximate word count: 92,000
2009: Tripwire (Lee Child)
2008: Murder on the Links (Agatha Christie)
2007: Mimosa Grove (Dinah McCall)
2006: Biting the Moon (Martha Grimes)
2005: High Five (Janet Evanovich)
Used in these Challenges: Countdown Challenge 2010; 2010 100+ Reading Challenge; 2010 Pub Challenge; E-book Reading Challenge; Pages Read Challenge Season 2; Thriller & Suspense Challenge 2010;