2010: #55 – Killing Orders (Sara Paretsky)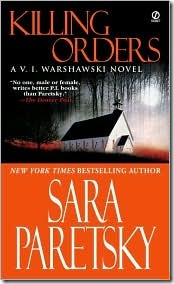 Book #55 was Killing Orders, Sara Paretsky's third V.I. Warshawski novel.  the back of the book reads:
V.I.'s battleaxe Aunt Rosa is under investigation by the FBI and SEC after counterfeit stock certificates were found at St. Albert's Priory, where she serves as treasurer. As malicious as her aunt is, V.I. knows she's not dishonest, so V.I. vows to protect her from taking the fall. But V.I. starts questioning the strength of her family ties when a menacing voice on the phone threatens to throw acid into her eyes if she doesn't butt out. The stakes are high as she begins to sniff out a connection between Chicago's most powerful institutions: the Church and the Mob.
I've heard lots of great things about Paretsky's V.I. Warshawski series, but this is the first I've read. I enjoyed it, but I have to admit that the financial stuff makes my eyes glaze over a bit.  I liked the addition of Catholic Church politics into the mix. Though I didn't read the first two novels, I had no problem figuring out Warshawski's back story, and her relationship with her family and with Roger Ferrant are explained pretty well.  Warshawski reminds me a bit of Sue Grafton's Kinsey Millhone, which is amusing since both series started in the same year.  Warshawski is tough, independent, and smart — a great role model for female P.I.'s everywhere.
Page count: 368 | Word count: 85,497
2009: Mating Rituals of the North American WASP (Lauren Lipton)
2008: Beautiful Lies (Lisa Unger)
2007: Midnight in Death (J.D. Robb)
2006: Proof (Dick Francis)
2005: Seven Up (Janet Evanovich)
Used in these Challenges: 2010 100+ Reading Challenge; New Author Challenge; Pages Read Challenge Season 2;