2010: #56 – Chenxi and the Foreigner (Sally Rippin)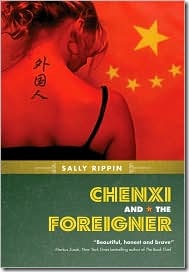 Book #56 was Chenxi and the Foreigner by Sally Rippin.  The back of the book reads:
Love in the time of the Tiananmen Square.

Anna never imagined living in such a foreign place. Fresh out of high school, she has joined her father, who works in Shanghai. She's eager to see China beyond the bicycle-crowded streets between their apartment, her father's expatriate community and the art school she's attending. That's why she's thrilled when her father hires a cute local — a fellow student named Chenxi — to be her translator and guide.

Too bad Anna seems nothing but trouble for Chenxi. His ideas about art already rankle the authorities, and he could do without the added attention of being with a wai guo ren — a foreigner. Even so, he is intrigued by Anna's brashness and the freedoms she takes for granted. But when Anna turns their friendship toward passion, her actions have consequences that are intensified by a watchful regime looking to get rid of disruptive artists.

Set around the time of the 1989 Tiananmen Square massacre and inspired by the author's time spent in China as a teenager, Chenxi and the Foreigner crackles with emotion, ideas and authenticity.
I have mixed feelings about this.  I think the story has good bones — a privileged Australian teenager spends some time in Shanghai to study art during the lead up to the Tiananmen Square protests — but ultimately fell flat.  It was hard for me to connect with Anna, who is self-absorbed and rather blind to the plight of others. She also lacks any sort of respect for her father, who just flits in and out of the story tossing money at her at every opportunity.  You get some sense of the political climate in Shanghai during this time, but I think that could have been taken further.  I wanted to know more about how the city looked, smelled, tasted. I'm not sure the twist in Anna's story, the repercussions of her brief affair with Chenxi, were really needed.  It showed some interesting thing about healthcare in China at that time, but ultimately made little difference in Chenxi's story.  Maybe I expected too much.
This book was a review copy.
Page count: 208 | Approximate word count: 36,400
2009: Dark Places (Gillian Flynn)
2008: How I Live Now (Meg Rosoff)
2007: Basket Case (Carl Hiaasen)
2006: Fall on Your Knees (Ann-Marie MacDonald)
2005: Hard Eight (Janet Evanovich)
Used in these Challenges: ARC Reading Challenge 2010; 2010 100+ Reading Challenge; 2010 Young Adult Reading Challenge; New Author Challenge; Pages Read Challenge Season 2;