2010: #7 – Pacific Vortex! (Clive Cussler)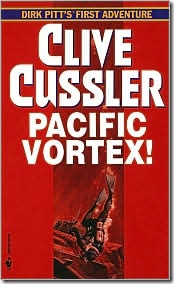 Book #7 was Pacific Vortex!, the first Dirk Pitt story by Clive Cussler.  The back of the book reads:
Dirk Pitt's first, most terrific adventure! Dirk Pitt, death-defying adventurer and deep-sea expert, is out to the ultimate test as he plunges into the perilous waters of the Pacific Vortex — a fog-shrouded sea zone where dozens of ships have vanished without a trace. The latest victim is the awesome superb Starbuck, America's deep-diving nuclear arsenal. Its loss poses an unthinkable threat to national defense. Pitt's job is to find it, salvage it, before the sea explodes. In a furious race against time, Pitt's mission swirls him into a battle with underwater assassins-and traps him in the arms of Summer Moran, the most stunningly exotic and dangerous toward disaster, Clive Cussler plummets his hero onto an ancient sunken island-the astonishing setting for the explosive climax of Pacific Vortex!
This was the first Dirk Pitt story Clive Cussler wrote, though it wasn't published until 8 years after the first book was published. Dirk is a little rough around the edges here, but he's lacking a little of the machismo/misogyny that plagues him in the first few books in the series. This is a good thing.  In fact, Pitt uncharacteristically falls in love in this book, and you have to wonder if that puts his behavior in the next several stories in a different light.  Regardless of Pitt's behavior with the ladies, this story gives you exactly what you expect from Clive Cussler — action, adventure, and a completely unbelievable plot, complete with pontificating bad guy. All things I love when Cussler is involved. Overall, this is a quick, fun read.
Page count: 288 | Approximate word count: 72,000
2009: Plum Spooky (Janet Evanovich)
2008: Gone (Lisa Gardner)
2007: The Dark Tower (Stephen King)
2006: Whiteout (Ken Follett)
2005: Twisted (Jonathan Kellerman)
Used in these Challenges: 2010 100+ Reading Challenge; Reading From My Shelves Project; Pages Read Challenge Season 2; TwentyTen Challenge; What's in a Name? 3 Challenge;