2010: #8 – Tongue in Chic (Christina Dodd)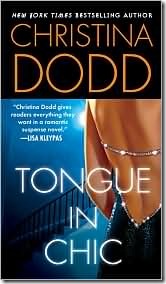 Book #8 was Tongue in Chic by Christina Dodd.  The back of the book reads:
Devlin Fitzwilliam caught Meadow Szarvas red-handed, breaking into his mansion to steal a painting. In sheer desperation, she used a case of amnesia as her excuse. But then he pulled a fast one-and claimed she was his wife. Playing along was the only way for Meadow to get her hands on that painting. But what she doesn't realize is that Devlin has a hidden agenda too-and that someone's keeping an eye on them both.
This was a cute little caper. Devlin and Meadow start lying to each other from the moment their eyes meet.  The humor comes from the fact that they both know each other is lying, but neither of them is willing to call the other on it. I enjoyed watching their relationship grow, including the frustrations they had with each other.  In fact, I got so caught up in the romance part of it that by the time the climax of the novel came around, I had forgotten they had another bad guy to deal with. I guess that can be seen as both a good thing and a bad thing.  I think Dodd's books (at least the ones I've read so far) are fun, kicky romances, and I look forward to reading more.
Audiobook length: 9hrs 4min | Approximate word count: 100,000
2009: The Stupidest Angel (Christopher Moore)
2008: Loyalty in Death (J.D. Robb)
2007: Tokyo Woes (Bruce Jay Friedman)
2006: The Surgeon (Tess Gerritsen)
2005: One for the Money (Janet Evanovich)
Used in these Challenges: Countdown Challenge 2010; 2010 100+ Reading Challenge; Second Reading Challenge; Audiobook Challenge; Contemporary Romance Reading Challenge 2010;