2010: #88 – The Eye of the Needle (Ken Follett)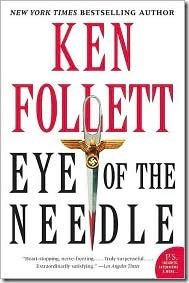 Book #88 was The Eye of the Needle by Ken Follett.  The back of the book reads:
One enemy spy knows the secret of the Allies' greatest deception, a brilliant aristocrat and ruthless assassin—code name: "The Needle"—who holds the key to the ultimate Nazi victory. Only one person stands in his way: a lonely Englishwoman on an isolated island, who is coming to love the killer who has mysteriously entered her life.

Ken Follett's unsurpassed and unforgettable masterwork of suspense, intrigue, and the dangerous machinations of the human heart—Eye of the Needle
Eye of the Needle was Follet's first book published in the U.S., and it's no surprise that it's sold somewhere around 10 million copies worldwide. I consider Follett's WWII books to be his best. He is able to put us smack dab in the middle of the war, usually in a situation we wouldn't expect. Here, he takes a single question — What if the Germans knew the Allies were attacking Normandy? — and turns it into a thrilling cross-country chase that culminates in an unexpected showdown on a tiny island. He gives us characters that are three-dimensional and complex, even if they aren't major characters in the story.  Perhaps most interesting was Follett's fictional Third Reich.
I was fortunate enough to see Ken Follett speak at the National Book Festival this year, and now I'm a bigger fan than ever.  How can you not like a man who tops off every writing day with a glass of champagne?
Other reviews:
The Eye of the Needle – Ken Follett « A Book Sanctuary
Page count: 464 | Approximate word count: 116,000
2009: Unnatural Exposure (Patricia Cornwell)
2008: I'm Watching You (Mary Burton)
2007: The Ritual Bath (Faye Kellerman)
2006: You Belong To Me (Mary Higgins Clark)
Used in these Challenges: 2010 100+ Reading Challenge; 2010 Reading From My Shelves Project; Historical Fiction Reading Challenge; Pages Read Challenge Season 2;