2010: #89 – Black Hills (Nora Roberts)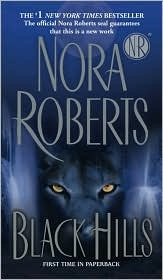 Book #89 was Black Hills by Nora Roberts.  The back of the book reads:
Lil Chance fell in love with Cooper Sullivan pretty much the first time she saw him, an awkward teenager staying with his grandparents on their cattle ranch in Montana while his parents went through a messy divorce. They spent every summer together, trekking in the Black Hills, tracking cougar and falling in love. Then Cooper broke her heart and moved back to New York City. Ten years later and Cooper has given up his job in the police force to run the ranch after his grandfather is injured in a fall. Lil has stayed true to her love of cougars and of the Black Hills and opened an animal sanctuary. She has been targeted by animal rights campaigners in the past but this time someone seems intent on murder. As hikers are killed, animals mutilated and a family member goes missing, Lil knows that she has no choice but to turn to Cooper for help in her fight for survival …
This was alright, but not the best Nora Roberts I've read.  Lil holds on to her broken heart a little too long to be truly likable.  I wanted to tell her to just suck it up and get on with things, either forgive Coop or get off the pot.  So to speak. The setting is good, and as always, Roberts does a great job of making a place come alive.  I also liked the concept of the animal sanctuary.  It's nice to have a character with a job that's a little out of the norm.  We read about so many cops, investigators, lawyers, journalists, and ranchers.  The formula here is a little different — we find out "whodunit" quite early on in the story — and I'm not sure how I feel about that.  The bad guy's reasons for doing what he's doing seem a little forced, and I'm not sure it all holds together in the end.  Still, Roberts manages to give us at least a few characters we care about, and an interesting climax.
Other reviews:
REVIEW: Black Hills by Nora Roberts | Dear Author
Audiobook length: 16hrs 51min | Approximate word count: 116,000
2009: The Memory Collector (Meg Gardiner)
2008: Nefertiti (Michelle Moran)
2007: The Road (Cormac McCarthy)
2006: Dangerous Tides (Christine Feehan)
Used in these Challenges: 2010 100+ Reading Challenge; Audiobook Challenge;