2010: #9 – Forbidden Falls (Robyn Carr)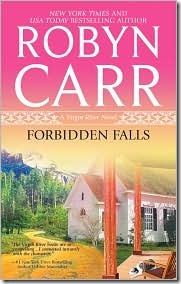 Book #9 was Forbidden Falls, the 8th book in Robyn Carr's Virgin River series.  The back of the book reads:
Virgin River is abuzz with the news that a stranger bought the town's abandoned church on eBay. The buyer, a young widowed reverend, is a little like the building itself: in need of some loving care.

Noah Kincaid arrives ready to roll up his sleeves and revitalize his new purchase, but he's going to need some help. An ad in the local paper brings an improbable candidate his way.

"Pastor's assistant" is not a phrase that springs to mind when Noah meets brassy, beautiful Ellie Baldwin. With her colorful clothes and even more colorful past, Ellie needs a respectable job so she can regain custody of her children. Noah can't help but admire her spunk and determination, and she may just be the breath of fresh air he needs.

This unlikely duo may come from two different worlds, but they have more in common than anyone would have expected. And in Virgin River lasting happiness is never out of the question.
This is only the second Virgin River book I've read, but it's really not necessary to read these in order.  Each book deals with a different couple, though you do get to visit with past characters and see where life has taken them. Overall, this was a sweet romance with a recurring theme of children and what parents will do for them. Not only is Ellie fighting for her kids, but another couple in town struggles with a decision about a child they've unexpectedly "inherited". My one complaint is that the first chapter is quite awkward; it's all just narration of how Noah comes to purchase Virgin River's church.  I think that background could have been fit in more smoothly.  Also, I have no idea why this book is named Forbidden Falls.  There is no mention of falls or Forbidden Falls or anything like that in the entire book. I suppose that some might think that Noah's relationship with Ellie is "forbidden", but I think that's a stretch. Regardless, I thought it was a nice story and I definitely plan to read more in this series.
Page count: 384 | Approximate word count: 96,000
2009: Amelia Peabody's Egypt (Elizabeth Peters)
2008: The Copenhagen Connection (Elizabeth Peters)
2007: Birthright (Nora Roberts)
2006: Memoirs of a Geisha (Arthur Golden)
2005: E is for Evidence (Sue Grafton)
Used in these Challenges: Countdown Challenge 2010; ARC Reading Challenge; 2010 100+ Reading Challenge; Second Reading Challenge; Contemporary Romance Reading Challenge 2010; Pages Read Challenge Season 2;