2010: #10 – What to Expect Before You're Expecting (Heidi Murkoff)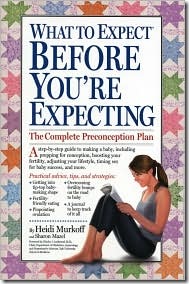 Book #10 was What to Expect Before You're Expecting by Heidi Murkoff.  The back of the book reads:
More and more couples are planning for conception, not only for financial and lifestyle reasons, but in response to recent recommendations from the medical community. In the same fresh, contemporary voice that has made the 4th edition of What to Expect When You're Expecting so successful, Heidi Murkoff explains the whys and wherefores of getting your body ready for pregnancy, including pregnancy prep for both moms and dads to be. Before You're Expecting is filled with information on exercise, diet, pinpointing ovulation, lifestyle, workplace, and insurance changes you'll want to consider, and how to keep your relationship strong when you're focused on baby making all the time. There are tips for older couples; when to look for help from a fertility specialist–including the latest on fertility drugs and procedures–plus a complete fertility planner.
This isn't the type of book I normally review here, but what the heck, I'm branching out!  We've been trying to have a baby for a couple of years now, and I thought it was time that I made sure that I was as educated as I thought I was about conception. I definitely learned a few things from this book. This is a book you can skip around in easily, because not all of the topics are going to apply to everyone.  It's informational without being dry and boring.  There is also information here for the man you are trying to conceive with.  I especially appreciated that the book acknowledged that not everyone can get pregnant at the drop of a hat, and addressed different options that are available.  I'll definitely be holding on to this to refer to from time to time.
Page count: 275 | Approximate word count: 68,750
2009: Claus: A Christmas Incarnation: Vol I (C. John Coombes)
2008: Dead Aim (Iris Johansen)
2007: Maisie Dobbs (Jacqueline Winspear)
2006: K is for Killer (Sue Grafton)
2005: Immortal in Death (J.D. Robb)
Used in these Challenges: 2010 100+ Reading Challenge; Pages Read Challenge Season 2;