2010: #97 – Don't Look Down (Jennifer Crusie & Bob Mayer)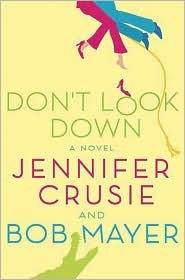 Book #97 was Don't Look Down by Jennifer Crusie and Bob Mayer.  The back of the book reads:
SHE is a director of dog food commercials who's just been recruited to finish a four-day movie shoot. But as soon as Lucy Armstrong arrives on set, she discovers that the staff is in chaos, the make-up artist is suicidal, and the stunt director just happens to be her ex-husband. That, and the temperamental lead actor has just acquired as an advisor a Green Beret who has the aggravating habit of always being right.

HE thought that hiring on as a military consultant for a movie star was a to-die-for deal: easy work, easy money, easier starlets. But his first day on the job, Captain J.T. Wilder ends up babysitting a bumbling comedian, dodging low-flying helicopters, and trying to find out who's taking "shooting a movie" much too literally.
I have mixed feelings about this.  First, the audio production I listened to was really odd, with the different male/female points of view and male/female dialog done by different narrators (male for male, female for female, of course).  It was a little jarring at times, and I think it contributed to the outrageousness of the story. The plot is weak and unnecessarily confusing (I'm still not entirely certain what was going on in the end), and characters are so over-the-top they border on cartoonish.  I guess this could be good or bad, depending on your point of view. I'd read more from Crusie, but I might shy away from this particular combination of authors in the future.
Other reviews:
REVIEW: Don't Look Down by Jennifer Crusie and Bob Mayer | Dear Author
Smart Bitches, Trashy Books
Audiobook length: 11 hrs 51 min | Approximate word count: 96,000
2009: Huge (James W. Fuerst)
2008: The Book of Three (Lloyd Alexander)
2007: Three Act Tragedy (Agatha Christie)
2006: The Kill Artist (Daniel Silva)
Used in these Challenges: 2010 100+ Reading Challenge; 2nd Reading Challenge; Audiobook Challenge; Four Month Challenge – Part 5; Countdown Challenge 2011;