2010: #98 – Lake Magic (Kimberly Fisk)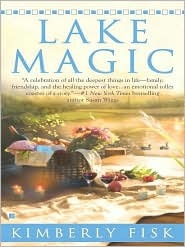 Book #98 was Lake Magic by Kimberly Fisk. The back of the book reads:
A captivating, heartwarming debut novel.

After the loss of her fiancé Steven, Jenny Beckinsdale has more than a broken heart to deal with-their fledgling seaplane service is going under. In debt to Steven's best friend and fellow Navy pilot, she plans to convince the sexy, cynical flyboy to help save the business…and in the process these two lost souls may find they're saving each other.
This was okay.  Nothing complex or complicated, just a fairly straight-forward romance. I liked it, but didn't find much about it to love. I found the animosity of Jenny's family towards her a bit confusing.  If you ask me, she had a right to still be a bit of a mess 9 months after her fiance's death.  There was more history than that to it, but the outright hostility didn't sit well with me.  I also could have done without the subplot involving Jenny's sister and her absentee husband.  It added absolutely nothing to the story, especially since it's resolved without much to-do. Jared is your run-of-the-mill leading man, who didn't really need a "hero" story behind him.  I think he would have been much more interesting with more of a bad-boy story behind him.  But these are really just nit-picky things.  If you like romance in a beautiful setting, it's not a bad book to pick up.
This book is a review copy.
Page count: 336 | Approximate word count: 84,000
2009: Catching Fire (Suzanne Collins)
2008: Any Given Doomsday (Lori Handeland)
2007: A Game of Thrones (George R.R. Martin)
2006: A Dangerous Fortune (Ken Follett)
Used in these Challenges: ARC Reading Challenge 2010; 2010 100+ Reading Challenge; Contemporary Romance Reading Challenge 2010; Pages Read Challenge Season 2; Four Month Challenge – Part 5; Countdown Challenge 2011;