2021: #13 – In a Holidaze (Christina Lauren)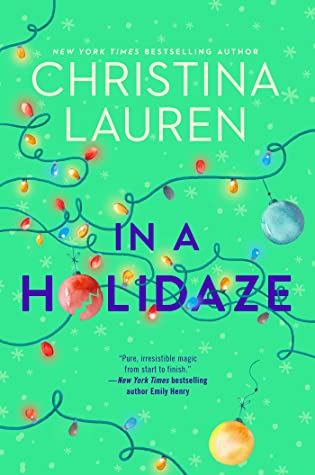 In a Holidaze
by
Christina Lauren
Published by
Gallery Books
on October 20, 2020
Genres:
contemporary romance
Pages:
336


One Christmas wish, two brothers, and a lifetime of hope are on the line for hapless Maelyn Jones in In a Holidaze, the quintessential holiday romantic novel by Christina Lauren, the New York Times bestselling author of The Unhoneymooners..

It's the most wonderful time of the year…but not for Maelyn Jones. She's living with her parents, hates her going-nowhere job, and has just made a romantic error of epic proportions.

But perhaps worst of all, this is the last Christmas Mae will be at her favorite place in the world—the snowy Utah cabin where she and her family have spent every holiday since she was born, along with two other beloved families. Mentally melting down as she drives away from the cabin for the final time, Mae throws out what she thinks is a simple plea to the universe: Please. Show me what will make me happy.

The next thing she knows, tires screech and metal collides, everything goes black. But when Mae gasps awake…she's on an airplane bound for Utah, where she begins the same holiday all over again. With one hilarious disaster after another sending her back to the plane, Mae must figure out how to break free of the strange time loop—and finally get her true love under the mistletoe.

Jam-packed with yuletide cheer, an unforgettable cast of characters, and Christina Lauren's trademark "downright hilarious" (Helen Hoang, author of The Bride Test) hijinks, this swoon-worthy romantic read will make you believe in the power of wishes and the magic of the holidays.
This was a fun Christmas romance that was surprisingly relatable considered the main character gets stuck in a time loop where she relives her Christmas vacation multiple times.
Maelyn (in her mid-20s) has spent every Christmas in a cabin in Utah with her (now-divorced) parents, her younger brother, and a few of her parents' friends and their families, including Theo, who is her age, and his older brother Andrew, who Mae has had an unrequited crush on since she was a teen. This is usually surprisingly unawkward, except for this year, when she drunkenly (and regretfully) makes out with Theo. And then before they leave, they find out that it will be their last Christmas in the cabin.
Mae is sent into a bit of an emotional tailspin, seeing this place and this time of year as the best thing she has going for her in her life. And then things get even worse, as their car gets hit on the way to the airport and Mae wakes up back on December 21st, all over again.
This was a lot of fun and hard to put down. The family/friend dynamics felt very real, and the romance is sweet and just the right amount of spicy. I would definitely read more from this duo.
I read this for the following reading challenges:
Other reviews:
"I feel like I say this all the time, but I absolutely loved the world that Christina Lauren created and the characters they inhabited it with. Honestly , it makes sense — more than ever this year, I need an escape from the real world. This escape — to a wonderful cabin in the woods, with a house full of genuinely lovely people and no risk of contracting COVID? — sounds almost too good to be true this year. I wanted to go sledding and have too many drinks with this amazing group of adult friends, and I totally understand why Mae holds this week of the year, this place, and these people as her 'happy place.'" — She's Full of Lit
"This is a modern romance for modern readers. I loved every minute of it! If you are looking for a quick funny holiday rom-com then look no further. This was a great option and I loved it!" — The Lit Bitch
"A novel that is guaranteed to give you all the feels and even add a touch of magic to your life, In a Holidaze turned tradition on its ear for a motley group of friends and family, showing them that love and friendship can overcome anything." — Harlequin Junkie