2010: #105 – Gone, Baby, Gone (Dennis Lehane)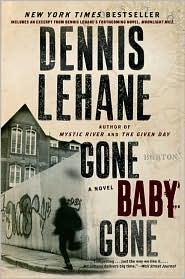 Book #105 was Gone, Baby, Gone, the 4th book in Dennis Lehane's Kenzie and Gennaro series.  The back of the book reads:
The tough neighborhood of Dorchester is no place for the innocent or the weak. Its territory is defined by hard heads and even harder luck; its streets are littered with the detritus of broken families, hearts, dreams. Now, one of its youngest is missing. Private investigators Patrick Kenzie and Angela Gennaro don't want the case. But after pleas from the child's aunt, they open an investigation that will ultimately risk everything—their relationship, their sanity, and even their lives—to find a little girl lost.
This is the first book I've read in the series, and the only reason I'm going out of order is because I have an ARC of Moonlight Mile, which continues this story, sitting in my TBR pile.  The good thing is that enough backstory is filled in for this to be a pretty decent stand-alone novel. In many ways, this is your standard child kidnapping/criminal enterprise story, but there are a few twists and turns along the way that make it stand out.  Most of all, I think what holds it apart is the concept of a happy ending not necessarily being the best ending, and that sometimes following the law isn't the only choice. I'm not sure I agree with how Lehane ends the story, but I understand why he did it.  Most of all, I'm looking forward to reading more in this series.
Other reviews:
Gone, Baby, Gone / Dennis Lehane – Rat's Reading
Page count: 448 | Word count: 121,423
2009: The Spire (Richard North Patterson)
2008: Dexter in the Dark (Jeff Lindsay)
2007: Rules of Prey (John Sandford)
2006: Amber Beach (Elizabeth Lowell)
Used in these Challenges: 2010 100+ Reading Challenge; 2010 Reading From My Shelves Project; Pages Read Challenge Season 2; Four Month Challenge – Part 5;