2010: #1 – The First Rule (Robert Crais)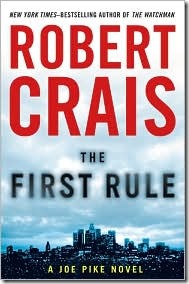 Book #1 was The First Rule, the second Joe Pike book by Robert Crais.  The back of the book reads:
The Watchman put Joe Pike, Elvis Cole's strong, taciturn partner, front and center, and not only won Robert Crais new audiences but remarkable reviews. The South Florida Sun-Sentinel said "Robert Crais elevates crime fiction" and now with The First Rule he does it again.

The organized criminal gangs of the former Soviet Union are bound by what they call the thieves' code. The first rule is this: A thief must forsake his mother, father, brothers, and sisters. He must have no family-no wife, no children. We are his family. If any of the rules are broken, it is punishable by death.

Frank Meyer had the American dream-until the day a professional crew invaded his home and murdered everyone inside. The only thing out of the ordinary about Meyer was that- before the family and the business and the normal life-a younger Frank Meyer had worked as a professional mercenary, with a man named Joe Pike. The police think Meyer was hiding something very bad, but Pike does not. With the help of Cole, he sets out on a hunt of his own-an investigation that quickly entangles them both in a web of ancient grudges, blood ties, blackmail, vengeance, double crosses, and cutthroat criminal­ity, and at the heart of it, an act so terrible even Pike and Cole have no way to measure it. Sometimes, the past is never dead. It's not even past.

The First Rule is the most astonishing novel yet from the master of the crime thriller.
This is the first Crais novel I've read with Joe Pike at the forefront, and I thought it was quite good. He reminds me a lot of Jack Reacher from Lee Child's books; they're both quiet, mysterious, and a lot more dangerous than they appear. And here you see a little of Pike's softer side when he finds himself trying to save a baby from becoming a pawn in an organized crime double-cross. I thought Crais did a good job of making you wonder what the truth actually is with a lot of characters that are very good liars. Elvis plays a significant part here, but most of the book is through Pike's eyes.  Joe Pike is a really strong leading man, and I hope we see more books from his perspective. If you are a fan of this genre, Crais is a must-read.
Other reviews:
Page count: 320 | Approximate word count: 80,000
2009: Eclipse (Richard North Patterson)
2008: Innocent in Death (J.D. Robb)
2007: Acceptable Risk (Robin Cook)
2006: Conspiracy in Death (J.D. Robb)
2005: The Poisonwood Bible (Barbara Kingsolver)
Used in these Challenges: Countdown Challenge 2010; ARC Reading Challenge 2010; 2010 100+ Reading Challenge; 2010 Pub Challenge; Pages Read Challenge Season 2; Thriller & Suspense Reading Challenge 2010; TwentyTen Challenge;