2010: Friday Finds – Spring New Releases (Part 1)
This is the first time I've participated in the Friday Finds meme.  There's been a distinct lack of posts around here since the start of the new year because I still have my nose stuck in Shogun. (I'm thisclose to finishing! Maybe this weekend)  Then my reading rate will return to normal.
So anyway, I look forward every quarter to seeing USA Today's Book Calendar. I like how you can easily browse through books being released in the next four months, and a quick little summary of each. It used to look a little snazzier, but we can't have everything 🙂 I spent a chunk of time yesterday clicking through, and found a lot of books to add to my wishlist.  There's *so* many, I'm going to spread it out over three Fridays.
January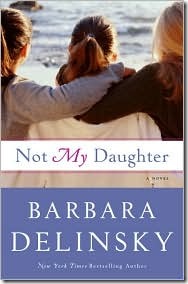 Not My Daughter by Barbara Delinsky
A pregnancy pact between three teenaged girls puts their mothers' love to the ultimate test in this explosive new novel from Barbara Delinsky, "a first-rate storyteller who creates characters as familiar as your neighbors." (Boston Globe)
When Susan Tate's seventeen-year-old daughter, Lily, announces she is pregnant, Susan is stunned. A single mother, she has struggled to do everything right. She sees the pregnancy as an unimaginable tragedy for both Lily and herself.
Then comes word of two more pregnancies among high school juniors who happen to be Lily's best friends-and the town turns to talk of a pact. As fingers start pointing, the most ardent criticism is directed at Susan. As principal of the high school, she has always been held up as a role model of hard work and core values. Now her detractors accuse her of being a lax mother, perhaps not worthy of the job of shepherding impressionable students. As Susan struggles with the implications of her daughter's pregnancy, her job, financial independence, and long-fought-for dreams are all at risk.
The emotional ties between mothers and daughters are stretched to breaking in this emotionally wrenching story of love and forgiveness. Once again, Barbara Delinsky has given us a powerful novel, one that asks a central question: What does it take to be a good mother?
February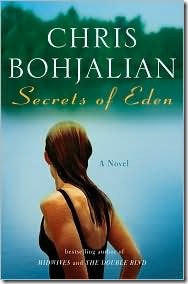 Secrets of Eden by Chris Bohjalian 
From the bestselling author of The Double Bind, Midwives, and Skeletons at the Feast comes a novel of shattered faith, intimate secrets, and the delicate nature of sacrifice.
"There," says Alice Hayward to Reverend Stephen Drew, just after her baptism, and just before going home to the husband who will kill her that evening and then shoot himself. Drew, tortured by the cryptic finality of that short utterance, feels his faith in God slipping away and is saved from despair only by a meeting with Heather Laurent, the author of wildly successful, inspirational books about . . . angels.
Heather survived a childhood that culminated in her own parents' murder-suicide, so she identifies deeply with Alice's daughter, Katie, offering herself as a mentor to the girl and a shoulder for Stephen – who flees the pulpit to be with Heather and see if there is anything to be salvaged from the spiritual wreckage around him. But then the State's Attorney begins to suspect that Alice's husband may not have killed himself. . .and finds out that Alice had secrets only her minister knew.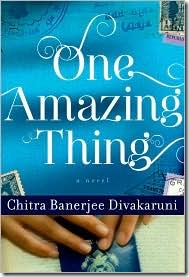 One Amazing Thing by Chitra Banerjee Divakaruni
Late afternoon sun sneaks through the windows of a passport and visa office in an unnamed American city. Most customers and even most office workers have come and gone, but nine people remain. A punky teenager with an unexpected gift. An upper-class Caucasian couple whose relationship is disintegrating. A young Muslim-American man struggling with the fallout of 9/11. A graduate student haunted by a question about love. An African-American ex-soldier searching for redemption. A Chinese grandmother with a secret past. And two visa office workers on the verge of an adulterous affair.
When an earthquake rips through the afternoon lull, trapping these nine characters together, their focus first jolts to their collective struggle to survive. There's little food. The office begins to flood. Then, at a moment when the psychological and emotional stress seems nearly too much for them to bear, the young graduate student suggests that each tell a personal tale, "one amazing thing" from their lives, which they have never told anyone before. And as their surprising stories of romance, marriage, family, political upheaval, and self- discovery unfold against the urgency of their life-or-death circumstances, the novel proves the transcendent power of stories and the meaningfulness of human expression itself. From Chitra Divakaruni, author of such finely wrought, bestselling novels as Sister of My Heart, The Palace of Illusions, and The Mistress of Spices, comes her most compelling and transporting story to date. One Amazing Thing is a passionate creation about survival-and about the reasons to survive.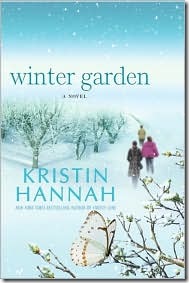 Winter Garden by Kristin Hannah
From the author of the smash-hit bestseller Firefly Lane and True Colors comes a powerful, heartbreaking novel that illuminates the intricate mother-daughter bond and explores the enduring links between the present and the past.
Meredith and Nina Whitson are as different as sisters can be. One stayed at home to raise her children and manage the family apple orchard: the other followed a dream and traveled the world to become a famous photojournalist. But when their beloved father fails ill, Meredith and Nina find themselves together again, standing alongside their cold, disapproving mother, Anya, who even now, offers no comfort to her daughters. As children, the only connection between them was the Russian fairy tale Anya sometimes told the girls at night. On his deathbed, their father extracts a promise from the women in his life: the fairy tale will be told one last time – and all the way to the end. Thus begins an unexpected journey into the truth of Anya's life in war-torn Leningrad, more than five decades ago. Alternating between the past and present, Meredith and Nina will finally hear the singular, harrowing story of their mother's life, and what they learn is a secret so terrible and terrifying that it will shake the very foundation of their family and change who they believ
e they are.
Jacob Hunt is a teenage boy with Asperger's syndrome. He's hopeless at reading social cues or expressing himself well to others, and like many kids with AS, Jacob has a special focus on one subject — in his case, forensic analysis. He's always showing up at crime scenes, thanks to the police scanner he keeps in his room, and telling the cops what they need to do…and he's usually right. But then his town is rocked by a terrible murder and, for a change, the police come to Jacob with questions. All of the hallmark behaviors of Asperger's — not looking someone in the eye, stimulatory tics and twitches, flat affect — can look a lot like guilt to law enforcement personnel. Suddenly, Jacob and his family, who only want to fit in, feel the spotlight shining directly on them. For his mother, Emma, it's a brutal reminder of the intolerance and misunderstanding that always threaten her family. For his brother, Theo, it's another indication of why nothing is normal because of Jacob. And over this small family the soul-searing question looms: Did Jacob commit murder?
Emotionally powerful from beginning to end, House Rules looks at what it means to be different in our society, how autism affects a family, and how our legal system works well for people who communicate a certain way — and fails those who don't.
Tim Welch is a popular history teacher at the Montague Academy, an exclusive private school in Brooklyn Heights. As he says, "I was an odd-looking, gawky kid but I like to think my rocky start forced me to develop empathy, kindness, and a tendency to be enthusiastic. All of this, I'm now convinced, helped in my quest to be worthy of Kate Oliver." Now, Kate is not inherently ordinary. But she aspires to be. She stays home with their two young sons in a modest apartment trying desperately to become the parent she never had. They are seemingly the last middle-class family in the Heights, whose world is turned upside down by Anna Brody, the new neighbor who moves into the most expensive brownstone in Brooklyn, sending the local society into a tailspin.
Anna is not only beautiful and wealthy; she's also mysterious. And for reasons Kate doesn't quite understand, even as all the Range Rover- driving moms jockey for invitations into Anna's circle, Anna sets her sights on Kate and Tim and brings them into her world.
Like Tom Perrotta, Peter Hedges has a keen eye for the surprising truths of daily life. The Heights is at once light of touch and packed with emotion and depth of character.
To be continued…