2010: #77 – The Secret of Ka (Christopher Pike)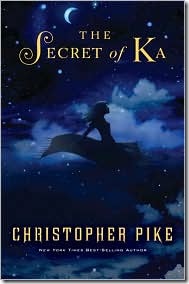 Book #77 was The Secret of Ka by Christopher Pike.  The back of the book reads:
One minute Sara's bored on vacation in Istanbul. The next, she's unearthed a flying carpet that cleverly drags her to the mysterious Island of the Djinn—or genies. By her side is Amesh, a cute guy she has a crush on but doesn't yet trust. When Amesh learns the secret of invoking djinn, he loses control. He swears he'll call upon only one djinn and make one wish. The plan sounds safe enough. But neither Sara nor Amesh are any match for the monster that that swells before them. It hypnotizes Amesh, compelling him to steal Sara's flying carpet and leave her stranded on the island.

Discovering the carpet has sparked a new path for Sara, one that will lead her to battle creatures even deadlier than djinn. In this fight, Sara can save mankind, herself, or the boy she cares for. Who will she be forced to sacrifice?
Christopher Pike and I go back a long ways.  When I was in junior high and high school, I was obsessed with his books, counting his Final Friends series, Chain Letter, and Gimme a Kiss amongst my favorite books.  Every time I was able to visit the Mr. Paperback a half hour from my house, I would go straight to the Young Adult section and hope for a new Christopher Pike book, anxious to fork over my $3.95. I owned every book he published. So it's not surprising that I was excited to see this new book as a galley offered through NetGalley.
Unfortunately, I found myself disappointed in this.  But I think my disappointment stems more from the book being mis-categorized than with the story itself.  This really didn't have the sophistication that I remember from the thrillers he wrote in the 80s and 90s. I think it would be better marketed as a middle-grade book rather than a young adult book. I can see 10-13 year-olds reading this, but not 16-18 year-olds.
As far as the story goes, I don't have too many major complaints, but I don't have any major kudos either.  It just left me feeling "eh".  Our main characters, Sara and Amesh, really aren't that compelling.  They both come off as shallow and selfish and immature, and inconsistent. And whatever spark we're supposed to feel between them just wasn't believable.  To me, it seemed like Sara didn't really care about him — liking him was just a way to get attention. I thought the mythology of the djinn was interesting, since I haven't read many (if any) books with that as a basis. Istanbul started out as an interesting locale, but he could have gone further with it.  I've been to Istanbul, and this story didn't recall the feelings I hoped for. I would have loved to see more of a description of the city, with its mosques and palaces and bazaars and variety of people, and a flying carpet could have given us a really unique perspective.  Instead, the story started to feel like it could have taken place anywhere. The plot gets a little out of control with its twists and turns and double-crosses, but things are mostly wrapped up at the end. I suspect there will be a sequel, at least.
This was the first galley I requested from NetGalley, and I have to say I was disappointed in that as well.  I chose to have the book delivered directly to my Kindle, and the formatting was awful.  I looked at the pdf that was available online, and that looked great, so there was no reason for the Kindle version to be so bad.  Not only were there no proper chapter markings (which I can forgive), the capitalization was completely screwed up.  I don't think there was one sentence that began with a capital letter, proper names were rarely capitalized, and other letters would be capitalized at random. I don't know if the fault is with NetGalley or with the publisher, but someone needs to step up and check the formatting before a book is offered via Kindle.
This book was a review copy.
Other reviews:
Kay's Bookshelf » The Secret of Ka by Christopher Pike
Page count: 416 | Approximate word count: 116,000
2009: Killer Takes All (Erica Spindler)
2008: New Moon (Stephenie Meyer)
2007: Evil Under the Sun (Agatha Christie)
2006: Indigo Slam (Robert Crais)
Used in these Challenges: ARC Reading Challenge 2010; 2010 100+ Reading Challenge; 2010 Young Adult Reading Challenge; E-book Reading Challenge; Pages Read Challenge Season 2;