2010: #78 – Catering to Nobody (Diane Mott Davidson)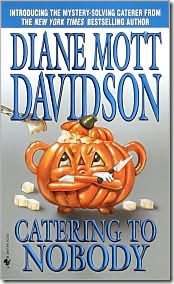 Book #78 was Catering to Nobody, the first book in Diane Mott Davidson's Goldy Bear series.  The back of the book reads:
Catering a wake is not Goldy's idea of fun. Yet the Colorado caterer throws herself into preparing a savory feast including Poached Salmon and Strawberry Shortcake Buffet designed to soothe forty mourners. And her culinary efforts seem to be exactly what the doctor ordered…until her ex-father-in-law gynecologist Fritz Korman is struck down and Goldy is accused of adding poison to the menu. Now, with the Department of Health impounding her leftovers, her ex-husband proclaiming her guilt, and her business about to be shut down, Goldy knows she can't wait for the police to serve up the answers. She'll soon uncover more than one family skeleton and a veritable stew of unpalatable secrets–the kind that could make Goldy the main course in an unsavory killer's next murder!
It feels like forever ago that I read this, so my memory is a little sketchy.  I definitely did like it, though I skipped over most of the recipes. I liked Goldy and her messy life and sullen son. You have to admire a woman who isn't afraid of a little hard work when things are working out her way. She does everything she can to clear her name and reopen her catering business, even if it isn't very wise. I was amused by Tom's persistence in getting to know Goldy, and I look forward to seeing more of both of them in the next book.
Page count: 320 | Approximate word count: 80,000
2009: A Man for Amanda (Nora Roberts)
2008: Considering SomeplacElse (B.L. Lindstrom)
2007: Shroud for a Nightingale (P.D. James)
2006: Voyager (Diana Gabaldon)
Used in these Challenges: 2010 100+ Reading Challenge; 1st in a Series Challenge; New Author Challenge 2010; Pages Read Challenge Season 2;