2010: #86 – The Sands of Time (Sidney Sheldon)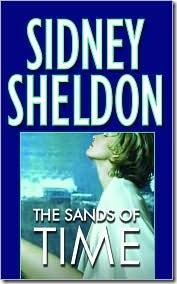 Book #86 was The Sands of Time by Sidney Sheldon.  The back of the book reads:
Spain. A land of eternal passion and unceasing bloodshed. From the vengeance of a pitiless tyrant, four women flee the sacred, once-safe walls of a convent: LUCIA, the proud survivor harboring a murderous secret from the savage clan wars of Sicily…GRACIELLA, the beauty still unpurged of guilt from one reckless, youthful sin…MEGAN, the orphan seeking perilous refuge in the arms of a defiant Basque rebel…and TERESA, the believer haunted by a faith that mocks her with silence. Leaving innocence but not hope behind, they venture into an alien, dazzling world, where each will encounter an unexpected destiny — and the truth about herself.
I enjoyed this, despite the ease with which a few of the nuns gave up their cause for more earthly desires. You get a little taste of the Basque guerilla movement, a little taste of romance, and a big taste of adventure.  A fun read.
Page count: 427 | Approximate word count: 106,750
2009: A Secret Rage (Charlaine Harris)
2008: Before I Wake (Dee Henderson)
2007: Angels Fall (Nora Roberts)
2006: Polar Shift (Clive Cussler)
Used in these Challenges: 2010 100+ Reading Challenge; 2010 Reading From My Shelves Project; Pages Read Challenge Season 2;