2011: #18 – Rocket Surgery Made Easy (Steve Krug)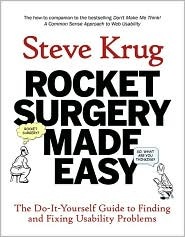 Book #18 was Rocket Surgery Made Easy by Steve Krug.  The back of the book reads:
It's been known for years that usability testing can dramatically improve products. But with a typical price tag of $5,000 to $10,000 for a usability consultant to conduct each round of tests, it rarely happens.

In this how-to companion to Don't Make Me Think: A Common Sense Approach to Web Usability, Steve Krug spells out an approach to usability testing that anyone can easily apply to their own web site, application, or other product. (As he said in Don't Make Me Think, "It's not rocket surgery".)

In this new book, Steve explains how to:

Test any design, from a sketch on a napkin to a fully-functioning web site or application
Keep your focus on finding the most important problems (because no one has the time or resources to fix them all)
Fix the problems that you find, using his "The least you can do" approach

By paring the process of testing and fixing products down to its essentials (A morning a month, that's all we ask ), Rocket Surgery makes it realistic for teams to test early and often, catching problems while it's still easy to fix them. Rocket Surgery Made Easy adds demonstration videos to the proven mix of clear writing, before-and-after examples, witty illustrations, and practical advice that made Don't Make Me Think so popular.
I read this for work, but I read it so it counts!
In a past life (or, about 3 jobs ago) I read Don't Make Me Think, and I loved its casual and humorous style. So when I needed to read up on usability testing, I knew Steve Krug wouldn't let me down. Rocket Surgery has that same easy-going tone, and he breaks down usability testing into easy steps. Also very helpful are the demo and sample scripts available on the companion web site. Before I started, I was daunted by the thought of usability testing, and was fairly sure I would screw it up (or at least, the results wouldn't be useful at all). Now, I feel a lot more comfortable about conducting my own initial tests in a couple of weeks. I won't be following Krug's path exactly, but he's given me some good landmarks.
Page count: 168 ('11 total: 4,452) | Approximate word count: 42,000 ('11 total: 1,654,552)
2010: Anthem (Ayn Rand)
2009: China Lake (Meg Gardiner)
2008: Triptych (Karin Slaughter)
2007: Fool Moon (Jim Butcher)
2006: Incubus Dreams (Laurell K. Hamilton)
2005: The Big Bad Wolf (James Patterson)
Used in these Challenges: Countdown Challenge 2011; Outdo Yourself Reading Challenge 2011;