2011: #26 – Heads You Lose (Lisa Lutz & David Hayward)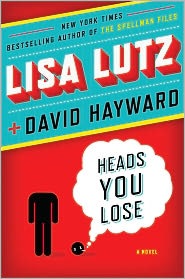 Book #26 was Heads You Lose by Lisa Lutz and David Hayward. The back of the book reads:
New York Times-bestselling author Lisa Lutz conspires with-or should we say against?-coauthor David Hayward to write an original and hilarious tag-team crime novel.

Meet Paul and Lacey Hansen: orphaned, pot-growing twenty-something siblings eking out a living in rural Northern California. When a headless corpse appears on their property, they can't exactly dial 911, so they move the body and wait for the police to find it. Instead, the corpse reappears, a few days riper . . . and an amateur sleuth is born. Make that two.

When collaborators Lutz and Hayward (former romantic partners) start to disagree about how the story should unfold, the body count rises, victims and suspects alike develop surprising characteristics (meet Brandy Chester, the stripper with the Mensa IQ), and sibling rivalry reaches homicidal intensity. Think Adaptation crossed with Weeds. Will the authors solve the mystery without killing each other first?
This was kind of a crazy book. I loved the back-and-forth format, which was only enhanced by the bickering between the two authors. Paul and Lacey are unlikely heroes, but when someone dumps a dead body on their property, they're left with little choice.
As a seasoned mystery reader, it's difficult to guess where the story is ultimately going, because the authors themselves don't really have any idea. Promising clues turn into dead ends, and red herrings abound. People die, then come back to life, only to die again. And behind all the twist and turns, there's the story of two siblings who need to figure out what they're doing with the rest of their life. Obviously, selling pot in their dead-end town isn't going to cut it much longer.
I am a big fan of Lutz's Spellman Files series, and her quirky sense of humor really holds this story together. I loved the wild ride, and anyone who has enjoyed the Spellman Files should go out and get this book.
This book was a review copy.
Other reviews:
Heads You Lose by Lisa Lutz and David Hayward – Book Review
Review: Heads You Lose by Lisa Lutz and David Hayward | Jenn's Bookshelves
Heads You Lose by Lisa Lutz and David Hayward | Word Lily
Review: Heads You Lose by Lisa Lutz and David Hayward | Life with Books
A Bookworm's World: Heads You Lose – Lisa Lutz & David Hayward
Page count: 320 ('11 total: 7,177) | Approximate word count: 80,000 ('11 total: 2,475,602)
2010: What Do We Do Now? (Keith Malley & Chemda)
2009: Soul Catcher (Michael C. White)
2008: Twilight (Stephenie Meyer)
2007: Full House (Janet Evanovich)
2006: Judgement in Death (J.D. Robb)
2005: The Sigma Protocol (Robert Ludlum)
Used in these Challenges: Countdown Challenge 2011; ARC Reading Challenge 2011; Outdo Yourself Reading Challenge 2011;