2011: #22 – The Likeness (Tana French)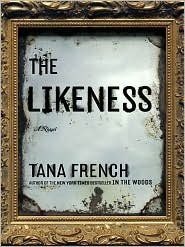 Book #22 was The Likeness by Tana French, the second book in her Dublin Murder Squad series.  The back of the book reads:
The haunting follow up to the Edgar Award-winning debut In the Woods

Tana French astonished critics and readers alike with her mesmerizing debut novel, In the Woods. Now both French and Detective Cassie Maddox return to unravel a case even more sinister and enigmatic than the first. Six months after the events of In the Woods, an urgent telephone call beckons Cassie to a grisly crime scene. The victim looks exactly like Cassie and carries ID identifying herself as Alexandra Madison, an alias Cassie once used. Suddenly, Cassie must discover not only who killed this girl, but, more importantly, who is this girl? A disturbing tale of shifting identities, The Likeness firmly establishes Tana French as an important voice in suspense fiction.
When I first found out that The Likeness would feature Cassie as the main character, I admit I was a bit disappointed.  "But I don't care about Cassie!" I whined. "I want to know what happens with Rob!" It took no more than a chapter for me to realize how wrong I was.
The premise of the novel is unusual but intriguing.  What are the chances that a girl will turn up dead that not only looks like she could be your sister, but is using an identity that you made up? Cassie is originally resistant to the idea that she take Lexie's place and step into her life in order to find out who her killer was, but it doesn't take much to convince her.  She's just been biding her time in Domestic Violence since the end of In the Woods, and the spice has been sucked from her life. The trick is, pretending to be someone who existed, someone with friends and responsibilities and a life, is a whole lot different than pretending to be someone entirely new.
When I think about it, I haven't read many books that feature undercover work, and that's a shame.  I thought it was exhilarating, not only for Cassie but for the reader.  It raises the suspense level like nothing else, because the most innocuous situation could become a disaster with just one wrong word. Her housemates are wonderfully written, almost maddening in their peculiarities, and you know right away that there is something beneath the surface that you're not seeing.  The only question is, how serious is it?
There are a lot of ghosts in this story.  Lexie haunts not only Cassie, but her housemates, even though they think she's still alive. There's the ghost of the past haunting a village that's trying to deal with the animosity it feels towards those that once lorded over them. And even Rob is a ghost. He's not dead, but he might as well be as far as Cassie is concerned.  The events of In the Woods continue to hang over her like a storm cloud. But I'd rather it be that way than for her to pretend like the previous events never occurred.
I do have to confess that at least some of my love for this book is due to the stellar audiobook production. Heather O'Neill's narration could not be more perfect. Her gentle Irish brogue pulls you along like a song you can't stop yourself from singing. She even made the distinction between country and city accents obvious to these untrained ears. I wish the next book wasn't about Frank!
I'm pretty stingy with my 5-star ratings nowadays, but this deserves nothing less.
Other reviews:
#304 ~ The Likeness : literatehousewife.com
Tana French – The Likeness « Fyrefly's Book Blog
Book Review: The Likeness by Tana French « The Book Whisperer
Review of "The Likeness" by Tana French « Rhapsody in Books Weblog
The Likeness by Tana French « Book Addiction
Audiobook length: 22 hrs 30 min | Approximate word count: 139,800 ('11 total: 2,074,352)
2010: The Seventh Commandment (Lawrence Sanders)
2009: Dead to the World (Charlaine Harris)
2008: Living Dead in Dallas (Charlaine Harris)
2007: A Death in Belmont (Sebastian Junger)
2006: A Long Way Down (Nick Hornby)
2005: The Bastard (John Jakes)
Used in these Challenges: Countdown Challenge 2011; 2011 Audiobook Challenge; Outdo Yourself Reading Challenge 2011; Four Month Challenge – Part 6