2011: #33 – Ricochet (Sandra Brown)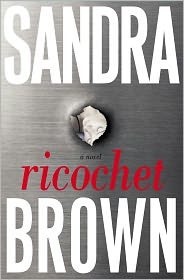 Book #33 was Ricochet by Sandra Brown. The back of the book reads:
When Savannah detective Duncan Hatcher is summoned to an unusual crime scene, he knows discretion is key. Influential Judge Cato Laird's beloved trophy wife, Elise, has fatally shot a burglar. She claims self-defense, but Duncan suspects she's lying, and puts his career in jeopardy by investigating further. Then, in secret, Elise makes an incredible allegation, which he dismisses as the lie of a cunning woman trying to exploit his intense attraction to her. But when Elise goes missing, Duncan finds that trusting the wrong person could mean the difference between life and death for both of them.
This wasn't Sandra Brown's best, but it's not her worst, either. The good was Brown's ability to build suspense – she's one of the best. But not all of the characters worked for me. Duncan was a little too ruled by his hormones, and sometimes had mood swings that didn't make much sense. His partner, DeeDee, was essentially the stereotypical homely girl who automatically hates anyone who is pretty whether she has a reason to or not. Elise is intended to be a mystery. You're never quite sure which side of the equation she's on, even at the end.
Also, the revenge plot that is the reason for everything made absolutely no sense to me. Without giving away too much, I don't know what the person wanting revenge was thinking – they had no exit strategy. For a supposedly intelligent person, it was weak.
But, Brown does make you think hard about who you suspect and why, and that's one of the reasons why I read her books.
Other reviews:
The Good, The Bad and The Unread » Review: Ricochet by Sandra Brown
Aneca's World: Ricochet – Sandra Brown
Audiobook length: 12 hrs 40 min | Approximate word count: 136,000 ('11 total: 3,202,802)
2010: A Stab in the Dark (Lawrence Block)
2009: The Kiss Murder (Mehmet Murat Somer)
2008: Those Who Trespass (Bill O'Reilly)
2007: The Monkey's Raincoat (Robert Crais)
2006: Origin in Death (J.D. Robb)
2005: I is for Innocent (Sue Grafton)
Used in these Challenges: Countdown Challenge 2011; 2011 Audiobook Challenge; Outdo Yourself Reading Challenge 2011;