2011: #79 – A Dangerous Mourning (Anne Perry)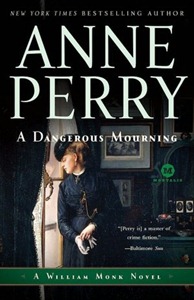 Book #79 was A Dangerous Mourning, the second book in Anne Perry's William Monk series. The back of the book reads:
No breath of scandal has ever touched the aristocratic Moidore family–until Sir Basil's beautiful widowed daughter is stabbed to death in her own bed, a shocking, incomprehensible tragedy.

Inspector William Monk is ordered to investigate in a manner that will give the least possible pain to the influential family. But Monk, brilliant and ambitious, is handicapped by lingering traces of amnesia and by the craven ineptitude of his supervisor, who would like nothing better than to see Monk fail. With the help of nurse Hester Latterly, a progressive young woman who served with Florence Nightingale in the Crimea, Monk gropes warily through the silence and shadows that obscure the case, knowing that with each step he comes closer to the appalling truth.
William Monk is an unusual character. Because he doesn't know anything about his own background, the reader has nothing to pull from to understand his motivations. For instance, why does he hate his boss so much? Is it just because he rubs him the wrong way, or is there a history that even Monk doesn't know, but that he can't stop himself from reacting to? It's frustrating and intriguing all at once.
But there's more to this book than the mystery of Monk. Hester continues to excel at being the female lead, and I find their relationship very interesting. Is it strictly platonic, or are their hints of romantic feelings hiding beneath the ire they tend to display? Hester is obviously in search of a life that is larger than the one society would like to dictate, and Monk appears to be her ticket to that life.
As for the murder mystery, it swims in the stink of class bigotry. I think Perry did a good job illustrating the feelings of both the aristocracy and the servant classes.
The one issue I had with this book had more to do with how I was reading it than anything else. I was reading it on my phone, and it was my "emergency" read, so I only got to it once or twice a week. Because of that, I had a hard time remembering who was who in the Moidore family. Though in my defense, there were a lot of them. This also wasn't a quick moving plot. There's really not a lot of action.
Bottom line, if you enjoy a period mystery, it's hard to go wrong with Anne Perry.
Other reviews:
A Few More Pages: Review: A Dangerous Mourning by Anne Perry
Book Review: A Dangerous Mourning by Anne Perry
Ordinary Reader: "A Dangerous Mourning"
Page count: 368 ('11 total: 21,871) | Approximate word count: 128,163 ('11 total: 7,757,825)
2010: Banker (Dick Francis)
2009: Ms. Taken Identity (Dan Begley)
2008: Dance with the Devil (Sherrilyn Kenyon)
2007: Harry Potter and the Deathly Hallows (J.K. Rowling)
2006: The Mermaid Chair (Sue Monk Kidd)