2011: #80 – Fly Away Home (Jennifer Weiner)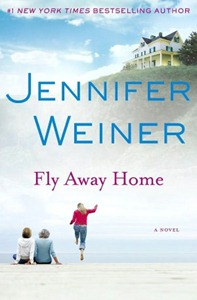 Book #80 was Fly Away Home by Jennifer Weiner.  The back of the book reads:
Sometimes all you can do is fly away home . . .

When Sylvie Serfer met Richard Woodruff in law school, she had wild curls, wide hips, and lots of opinions. Decades later, Sylvie has remade herself as the ideal politician's wife—her hair dyed and straightened, her hippie-chick wardrobe replaced by tailored knit suits. At fifty-seven, she ruefully acknowledges that her job is staying twenty pounds thinner than she was in her twenties and tending to her husband, the senator.

Lizzie, the Woodruffs' younger daughter, is at twenty-four a recovering addict, whose mantra HALT (Hungry? Angry? Lonely? Tired?) helps her keep her life under control. Still, trouble always seems to find her. Her older sister, Diana, an emergency room physician, has everything Lizzie failed to achieve—a husband, a young son, the perfect home—and yet she's trapped in a loveless marriage. With temptation waiting in one of the ER's exam rooms, she finds herself craving more.

After Richard's extramarital affair makes headlines, the three women are drawn into the painful glare of the national spotlight. Once the press conference is over, each is forced to reconsider her life, who she is and who she is meant to be.

Written with an irresistible blend of heartbreak and hilarity, Fly Away Home is an unforgettable story of a mother and two daughters who after a lifetime of distance finally learn to find refuge in one another.
I've been a little reluctant to read more from Weiner, because the first two books I read focused so much on the weight of the protagonist that it was a little bit of a turn-off. Thankfully, Weiner has grown as a writer and moved away from that to focus on more important issues.
Fly Away Home is about what happens to a family when a betrayal is revealed in a very public way. Sylvie, the victimized wife, decides that she needs some time away. She moves to her mother's vacation home, hoping to figure out who she is now that she's not being the Senator's wife. Her oldest daughter, Diana, is a busy doctor with an inattentive husband who finds excitement in the arms of another man, despite seeing what adultery has done to her parents. Her youngest daughter, Lizzie, is a recovering drug addict who is relishing the chance to be the caretaker for a change. I'd tell you more about the men, but they are rather one-dimensional.
I rather enjoyed Sylvie and Lizzie's parts of the story, but had major issues with Diana, for several reasons. First, she's basically a bitch. From the beginning to the end, I had a hard time mustering up any sympathy for her. Weiner tries really hard to make her husband, Gary, as distasteful as possible, but the more distasteful she made him, the worse Diana looks. In fact, I felt bad for Gary, because he married a woman who obviously never loved him to begin with and only married him because she figured she might as well get that part of her life over with. Box checked. I also didn't like the hot and cold relationship she had with her young son, who seemed so much better off with his recovering addict aunt. And finally, the event that forces Lizzie out of Diana's house made no sense to me. It seemed like an incredibly huge over-reaction. I think we're supposed to accept it because Diana is lashing out at someone else to assuage her own guilt, but it didn't work.
I also found the ending to be a bit disappointing. It's open-ended, and I would have preferred at least a little resolution.
I listened to this on audio and enjoyed Judith Light as narrator.
Other reviews:
Book review: 'Fly Away Home' by Jennifer Weiner | write meg!
S. Krishna's Books: Book Review: Fly Away Home – Jennifer Weiner
Book Review: Fly Away Home by Jennifer Weiner – Chloe's Chick Lit Reviews
Dot Scribbles: Book Review: Fly Away Home by Jennifer Weiner
Fly Away Home by Jennifer Weiner « Book Addiction
Audiobook length: 13 hrs 19 min | Approximate word count: 108,000 ('11 total: 7,865,825)
2010: Stalking Susan (Julie Kramer)
2009: Spook (Mary Roach)
2008: Fat Tuesday (Sandra Brown)
2007: The Killing Game (Iris Johansen)
2006: Strip Tease (Carl Hiaasen)