2011: #78 – The Nerdist Way (Chris Hardwick)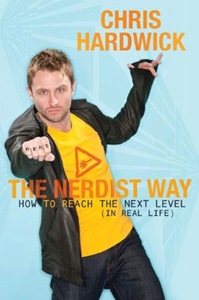 Book #78 was The Nerdist Way: How to Reach the Next Level (In Real Life) by Chris Hardwick. The back of the book reads:
Nerd superstar Chris Hardwick offers his fellow "creative obsessives" crucial information needed to come out on top in the current Nerd uprising.

As a lifelong member of "The Nerd Herd," as he calls it, Chris Hardwick has learned all there is to know about Nerds. Developing a system, blog, and podcasts, Hardwick shares hard-earned wisdom about turning seeming weakness into world-dominating strengths in the hilarious self-help book, The Nerdist Way.

From keeping their heart rate below hummingbird levels to managing the avalanche of sadness that is their in-boxes; from becoming evil geniuses to attracting wealth by turning down work, Hardwick reveals the secrets that can help readers achieve their goals by tapping into their true nerdtastic selves.

Here Nerds will learn how to:

Become their own time cop
Tell panic attacks to go suck it
Use incremental fitness to ward off predators

A Nerd's brain is a laser-it's time they learn to point and fire!
I generally don't read self-help books (evidenced by the fact that I had to create a "self-help" category on the blog for this), but I picked this up because I am a fan of Chris Hardwick. Hardwick, who some may recognize as being one of the hosts of MTV's Singled Out way back in the 90s, spent much of his 20s partying, drinking, and generally ruining his life. What happened when he hit 30 is best expressed in his own words:
"Then, when I hit thirty, I began to look around at my life: I was consuming a baby elephant's weight in alcohol EVERY DAY. I lived in a shitty apartment near UCLA … my place was always a mess, I had ruined my credit, and I had no real work prospects. I had become a thing I had always feared–the fat, drunk guy who used to be on television."
Hardwick quit drinking in 2003 and started trying to improve his life. Now he has multiple projects on the go, including a successful (and extremely entertaining) podcast, a new podcast network, and several TV gigs.
The secrets to Hardwick's success aren't anything new. Basically, he was able to harness his innate nature (his nerdiness, so to speak) and use it to his advantage. And that's what this book is about.
His techniques aren't going to appeal to everyone, but if you enjoy the quantitative over the qualitative, you may find some ideas here. In general, he is advocating identifying your goals and developing a way to track your progress in a visible way. He also talks a lot about how to deal with the generally obsessive "nerdist" brain, something which I could relate to. It's nice to know that you're not the only one who thinks the way you do. In the final section, he talks a lot about his diet and fitness, even providing a starter fitness plan that is modeled after what he has done with his trainer.
One thing you can't forget is that Hardwick is a comedian. The tone of the book is funny and descriptive, even during the more serious parts.
All-in-all, I enjoyed the book, even if I won't adopt some of the more time-consuming tracking techniques. However, there is one big ding against it. Hardwick spends a fair amount of time on the development of a "character tome" that is the heart of his goal-tracking technique. He sends readers to a web site for sample templates, but that website is not functional. We're now almost 3 months after the release of the book, and that's really not acceptable.
Good thing it's hard to be mad at Hardwick for long.
Other reviews:
Poisoned Rationality: Book Review: The Nerdist Way
The Nerdist Way – Living With a Nerd
Mike's Best Blog Ever: Book Review: The Nerdist Way
Page count: 304 ('11 total: 21,503) | Approximate word count:  83,600 ('11 total: 7,629,662)
2010: Catering to Nobody (Diane Mott Davidson)
2009: A Man for Amanda (Nora Roberts)
2008: Considering SomeplacElse (B.L. Lindstrom)
2007: Shroud for a Nightingale (P.D. James)
2006: Voyager (Diana Gabaldon)