2011: Friday Finds – October New Releases
For my Friday Finds, here are 5 new releases that are whetting my appetite for reading in October: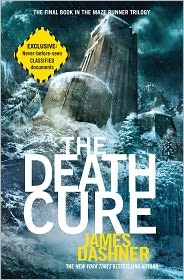 The Death Cure – James Dashner (Maze Runner #3)
Released: October 11, 2011
Thomas knows that Wicked can't be trusted, but they say the time for lies is over, that they've collected all they can from the Trials and now must rely on the Gladers, with full memories restored, to help them with their ultimate mission. It's up to the Gladers to complete the blueprint for the cure to the Flare with a final voluntary test.

What Wicked doesn't know is that something's happened that no Trial or Variable could have foreseen. Thomas has remembered far more than they think. And he knows that he can't believe a word of what Wicked says.

The time for lies is over. But the truth is more dangerous than Thomas could ever imagine.

Will anyone survive the Death Cure?
I was a fan of the first book in this series, The Maze Runner. I haven't read the second yet, but I'm sure I'll eventually be reading the third.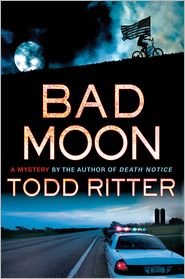 Bad Moon – Todd Ritter
Released: October 11, 2011
On the same night that Neil Armstrong became the first man to walk on the moon, ten-year-old Charlie Olmstead jumped on his bike to see if there was some way he could get a better look. It was the last anyone ever saw of him. After Perry Hollow Police Chief Jim Campbell found Charlie's bike caught in the water above Sunset Falls, he assumed the worst. Everyone did—except Charlie's mother.

Years later, Eric Olmstead—now a famous author and Charlie's younger brother—has come back to Perry Hollow to bury his mother and fulfill her last request: Find Charlie. To do so, he goes to the current police chief, his former sweetheart, Kat Campbell, who happens to be Jim Campbell's daughter. Together they soon discover that Eric's mother was convinced Charlie was kidnapped, and that finding him—whether he was dead or alive—was her secret obsession. While she never succeeded, she did uncover clues that suggested he wasn't the only boy across Pennsylvania to vanish into thin air during that time.

The haunting story of a boy missing for forty years, and of a small town that found lies easier to believe than the truth, explodes into the present in Bad Moon, Todd Ritter's excellent follow-up to his acclaimed debut.
I haven't read this author before, but this looks interesting!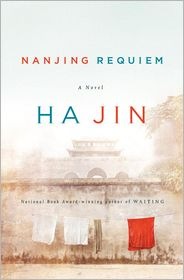 Nanjing Requiem – Ha Jin
Released: October 18, 2011
The award-winning author of Waiting and War Trash returns to his homeland in a searing new novel that unfurls during one of the darkest moments of the twentieth century: the Rape of Nanjing.

In 1937, with the Japanese poised to invade Nanjing, Minnie Vautrin—an American missionary and the dean of Jinling Women's College—decides to remain at the school, convinced that her American citizenship will help her safeguard the welfare of the Chinese men and women who work there. She is painfully mistaken. In the aftermath of the invasion, the school becomes a refugee camp for more than ten thousand homeless women and children, and Vautrin must struggle, day after day, to intercede on behalf of the hapless victims. Even when order and civility are eventually restored, Vautrin remains deeply embattled, and she is haunted by the lives she could not save.

With extraordinarily evocative precision, Ha Jin re-creates the terror, the harrowing deprivations, and the menace of unexpected violence that defined life in Nanjing during the occupation. In Minnie Vautrin he has given us an indelible portrait of a woman whose convictions and bravery prove, in the end, to be no match for the maelstrom of history.

At once epic and intimate, Nanjing Requiem is historical fiction at its most resonant.
I've had Ha Jin's War Trash on my bookshelf for a while, and this seems like an appropriate companion to it.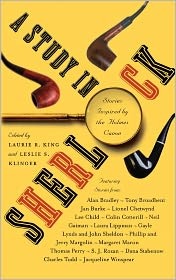 A Study in Sherlock – ed. Laurie R. King & Leslie Klinger
Released: October 25, 2011
BESTSELLING AUTHORS GO HOLMES—IN AN IRRESISTIBLE NEW COLLECTION edited by award-winning Sherlockians Laurie R. King and Leslie S. Klinger

Neil Gaiman. Laura Lippman. Lee Child. These are just three of eighteen superstar authors who provide fascinating, thrilling, and utterly original perspectives on Sherlock Holmes in this one-of-a-kind book. These modern masters place the sleuth in suspenseful new situations, create characters who solve Holmesian mysteries, contemplate Holmes in his later years, fill gaps in the Sherlock Holmes Canon, and reveal their own personal obsessions with the Great Detective.

Thomas Perry, for example, has Dr. Watson tell his tale, in a virtuoso work of alternate history that finds President McKinley approaching the sleuth with a disturbing request; Lee Child sends an FBI agent to investigate a crime near today's Baker Street—only to get a twenty-first-century shock; Jacqueline Winspear spins a story of a plucky boy inspired by the detective to make his own deductions; and graphic artist Colin Cotterill portrays his struggle to complete this assignment in his hilarious "The Mysterious Case of the Unwritten Short Story."*

In perfect tribute comes this delicious collection of twisty, clever, and enthralling studies of a timeless icon.
A tribute to Sherlock Holmes. Are you kidding me? Who wouldn't want this?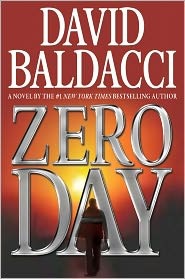 Zero Day – David Baldacci
Released: October 31, 2011
From David Baldacci-the modern master of the thriller and #1 worldwide bestselling novelist-comes a new hero: a lone Army Special Agent taking on the toughest crimes facing the nation.

And Zero Day is where it all begins….

John Puller is a combat veteran and the best military investigator in the U.S. Army's Criminal Investigative Division. His father was an Army fighting legend, and his brother is serving a life sentence for treason in a federal military prison. Puller has an indomitable spirit and an unstoppable drive to find the truth.

Now, Puller is called out on a case in a remote, rural area in West Virginia coal country far from any military outpost. Someone has stumbled onto a brutal crime scene, a family slaughtered. The local homicide detective, a headstrong woman with personal demons of her own, joins forces with Puller in the investigation. As Puller digs through deception after deception, he realizes that absolutely nothing he's seen in this small town, and no one in it, are what they seem. Facing a potential conspiracy that reaches far beyond the hills of West Virginia, he is one man on the hunt for justice against an overwhelming force.
A new series from David Baldacci? Why, thank you very much!
Friday Finds is hosted by Should Be Reading!