2011: #61 – Missing Mark (Julie Kramer)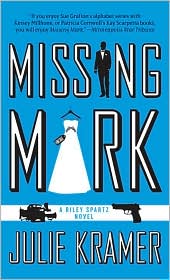 Book #61 was Missing Mark, the second book in Julie Kramer's Riley Spartz series. The back of the book reads:
When Riley Spartz sees a want ad reading "Wedding Dress for Sale: Never Worn," she finds a jilted bride unsure whether her groom got cold feet or has become a cold case himself. Her betrothed, Mark, last seen at the rehearsal dinner, never showed up for the wedding, humiliating his bride, Madeline—and her high-strung, high-society mother—in front of 300 guests. When Riley's curious missing person case leads to a dangerous murder investigation, she discovers a startling motive for Mark's disappearance. Riley now has a TV exclusive guaranteed to win the ratings . . . if she lives to report it.
I really enjoyed the first book in this series, Stalking Susan, so I had high hopes for this one. Thankfully, it delivered! Riley Spartz is nothing if not persistent. Sweeps are coming up again, and she's under pressure, as usual. TV news is changing, and the chances of her ending up with a story as big as the last one are low. When the ad for a never worn wedding dress shows up in the paper, she hopes she can find a story there. Along the way we get to visit with some of our favorite characters from the first book.
I think Kramer takes this story in some interesting directions. At least one aspect of it was totally unexpected, and something I've never seen anywhere else. This surprises me, because it was a very interesting medical condition. Also, we see Riley still struggling with her personal life as she continues to recover from the death of her husband. She doesn't always make the best decisions, but she does get her story.
This is a series I continue to enjoy!
Other reviews:
Missing Mark by Julie Kramer (Moonlighting for Murder) | Word Lily
Nostalgia From Yesterday's Conversations: Book Review: Missing Mark
Cheryl's Book Nook: Missing Mark
Bookin' with Bingo: BOOKIN' BINGO'S REVIEW: MISSING MARK by JULIE KRAMER
My Book Views: review: missing mark by julie kramer
Page count: 288 ('11 total: 16,862) | Approximate word count: 72,000 ('11 total: 6,003,629)
2010: From Dead to Worse (Charlaine Harris)
2009: City of Thieves (David Benioff)
2008: Full Tilt (Janet Evanovich)
2007: The Color of Magic (Terry Pratchett)
2006: City of Bones (Michael Connelly)
2005: J is for Judgment (Sue Grafton)