2012: #5 – Stitches (David Small)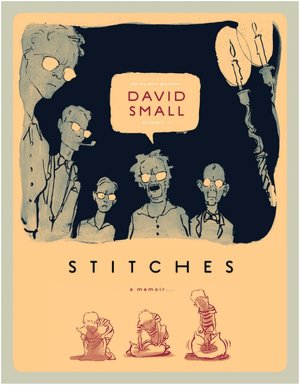 Title: Stitches
Author: David Small
Format: Hardcover
Pages: 336 (2012 total – 1,600)
Release Date: September 8, 2009
Publisher: W.W. Norton & Company
Categories: memoir, graphic novel, young adult
Source: personal copy
Rating: 4 out of 5

Back of the book:
Finalist for the 2009 National Book Award and finalist for two 2010 Will Eisner Comic Industry Awards: the prize-winning children's author depicts a childhood from hell in this searing yet redemptive graphic memoir.

One day David Small awoke from a supposedly harmless operation to discover that he had been transformed into a virtual mute. A vocal cord removed, his throat slashed and stitched together like a bloody boot, the fourteen-year-old boy had not been told that he had cancer and was expected to die.

In Stitches, Small, the award-winning children's illustrator and author, re-creates this terrifying event in a life story that might have been imagined by Kafka. As the images painfully tumble out, one by one, we gain a ringside seat at a gothic family drama where David—a highly anxious yet supremely talented child—all too often became the unwitting object of his parents' buried frustration and rage.

Believing that they were trying to do their best, David's parents did just the reverse. Edward Small, a Detroit physician, who vented his own anger by hitting a punching bag, was convinced that he could cure his young son's respiratory problems with heavy doses of radiation, possibly causing David's cancer. Elizabeth, David's mother, tyrannically stingy and excessively scolding, ran the Small household under a cone of silence where emotions, especially her own, were hidden.

Depicting this coming-of-age story with dazzling, kaleidoscopic images that turn nightmare into fairy tale, Small tells us of his journey from sickly child to cancer patient, to the troubled teen whose risky decision to run away from home at sixteen—with nothing more than the dream of becoming an artist—will resonate as the ultimate survival statement.

A silent movie masquerading as a book, Stitches renders a broken world suddenly seamless and beautiful again. Finalist for the 2009 National Book Award (Young Adult); finalist for two 2010 Will Eisner Comic Industry Awards (Best Writer/Artist: Nonfiction; Best Reality-Based Work).
My thoughts:
I've been meaning to read this for a long time, and finally got around to it a few weeks ago. We were traveling, and it was a good book to read start-to-finish in the car — only took me about an hour. David Small's story is rather sad. The second child of a pair of emotionally and physically distant parents, he spent much of his childhood entertaining himself and learning how to best maneuver with the least upset to anyone. When he develops a tumor on his neck, it becomes just one more thing to deal with silently. His parents seem barely concerned, leaving it for several years before finally having it removed when David is 14. Even then they don't tell him what is going on, just that he's having surgery. He wakes up with a giant scar and no voice with absolutely no preparation. It's hard to tell which is worse, the physical scar or the mental one.
The pain that David remembers is evident in his artwork. Black and white and stark, he's able to not only portray reality as he remembers it, through the eyes of a child, but his fantasies as well. The story may come off as a bit one-sided, but it is a memoir, after all, and is told through the point of view of himself as a child. There is an afterword of sorts, where he addresses his mother's behavior with the wisdom of age and experience. He may even have managed to forgive his parents. I'm not sure I could.
Some may say they did the best they knew how, but sometimes your best just isn't good enough.
Available from: Amazon | Barnes & Noble | IndieBound | WorldCat
Other reviews:
Past reviews:
2011: Bolt (Dick Francis)
2010: Bird by Bird (Anne Lamott)
2009: Five on a Treasure Island (Enid Blyton)
2008: I Heard That Song Before (Mary Higgins Clark)
2007: Up Island (Anne Rivers Siddons)
2006: The Big Love (Sarah Dunn)
2005: The Reptile Room (Lemony Snicket)