2016: American Housewife (Helen Ellis)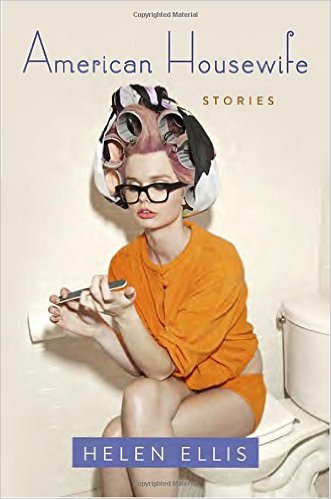 American Housewife: Stories
by
Helen Ellis
Published by
Doubleday
on January 12th 2016
Genres:
women's fiction
Pages:
185


A sharp, funny, delightfully unhinged collection of stories set in the dark world of domesticity, American Housewife features murderous ladies who lunch, celebrity treasure hunters, and the best bra fitter south of the Mason Dixon line.
Meet the women of American Housewife: they wear lipstick, pearls, and sunscreen, even when it's cloudy. They casserole. They pinwheel. They pump the salad spinner like it's a CPR dummy. And then they kill a party crasher, carefully stepping around the body to pull cookies out of the oven. These twelve irresistible stories take us from a haunted prewar Manhattan apartment building to the set of a rigged reality television show, from the unique initiation ritual of a book club to the getaway car of a pageant princess on the lam, from the gallery opening of a tinfoil artist to the fitting room of a legendary lingerie shop. Vicious, fresh, and nutty as a poisoned Goo Goo Cluster, American Housewife is an uproarious, pointed commentary on womanhood.
I rarely read short story collections, but I tore through this one, devouring a story or two each night before I'd sleep. There is a sharpness to Ellis's stories — they are very New York, but very Proper Southern Lady at the same time, which is exactly how I imagine Helen Ellis to be. An imagining that has turned out to be pretty accurate, if you read this article (she's also a poker player!).
My favorite stories were Dumpster Diving with the Stars, about a writer participating in a reality show, and The Fitter, which had a sadder edge to it. There were a couple that didn't work for me. My Novel is Brought to You by the Good People at Tampax just didn't do much for me, and Hello! Welcome to the Book Club had a tone that I didn't care for due to the subject matter.
Overall, this was collection of stories that was quick and fun. I think it would make a great summer beach read!
Other reviews:
"Actually, this was my behavior for the entire 185 pages of this book; laughing or squirming. I was never, ever bored, and I almost always admired the writing." — Joy: Defined
"This book is awash with satirical humour that anyone can relate to, but particularly to writers like me who once had a novel published and have since failed to successfully get that second book to press." — Lonesome Reader
"Critics are raving over this collection but many bloggers have called it uneven and, I'm afraid, I'm going to have to side with the bloggers on this one." — Bermuda Onion