2017: #22 – Islands (Anne Rivers Siddons)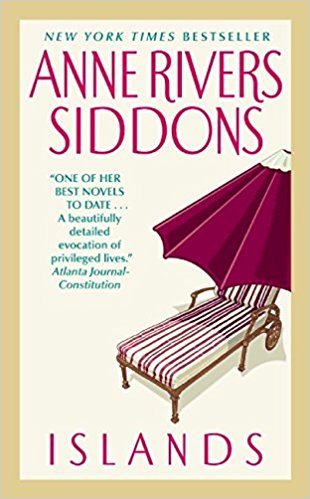 Islands
by
Anne Rivers Siddons
Published by
HarperTorch
on December 28th 2004
Genres:
women's fiction
Pages:
496


Also by this author:
King's Oak
,
Nora, Nora
Anny Butler is a caretaker, a nurturer, first for her own brothers and sisters, and then as a director of an agency devoted to the welfare of children. What she has never had is a real family. That changes when she meets and marries Lewis Aiken, an exuberant surgeon fifteen years older than Anny. When they marry, she finds her family—not a traditional one, but a group of Charleston childhood friends who are inseparable, who are one another's surrogate family. They are called the Scrubs, and they all, in some way, have the common cord of family.

Instantly upon meeting them at the old beach house on Sullivan's Island, which they co-own, Anny knows that she has found home and family. They vow that, when the time comes, they will find a place where they can live together by the sea.

Bad things begin to happen—a hurricane, a fire, deaths—but still the remaining Scrubs cling together. They are watched over and bolstered by Camilla Curry, the heart and core of their group, always the healer. Anny herself allows Camilla to enfold and to care for her. It is the first time she has felt this kind of love and support.
This was decent, but not nearly as good as some other Anne Rivers Siddons books I've read. As usual, the location plays a large part in the atmosphere of the book. Here we get 3 different faces of South Carolina — old money Charleston, the beach, and the low country — and each does its part. Unfortunately, I wish she'd spent as much time on her characters as she did on the setting.
Anny is the center of the story. She's not old money Charleston, but the leader of a non-profit who searches out the help of a doctor one day for one of her clients and meets Lewis, a successful surgeon 15 years her senior. He pulls her into his group of lifelong friends, the Scrubs, and soon they are all one happy family. Or so it seems.
The story crosses multiple decades and follows the Scrubs through the good times and bad — hurricanes, fire, death. It had the potential to be really emotional, but I felt like I never got a chance to know the characters before I was thrown into their lives and machinations. Lewis and Anny's courtship is nearly non-existent. They meet and then bam! They're married and life goes on. We're told how deeply they love each other, but we're robbed of the chance to see that love grow. And then there are the friends. Only a couple of them are really fleshed out characters, and not necessarily for the better. I even kept forgetting about one of the couples… whenever they'd be mentioned I'd think "Oh yeah, those guys".
Unfortunately, practically all of the inciting events in this story are tragic. After a while, it felt like "geez, who else is going to die?" I appreciated the twist at the end, but I think it could have used a little more intrigue sprinkled throughout the story to keep us interested.
Other reviews:
"This tour of the lifestyles of the rich and unfamous holds a certain prurient interest, and, thankfully, Siddons's talent makes down-to-earth Anny's narrative likable enough despite strangely unsympathetic people (they're snobs, with antiquated ideas about race)." – Kirkus
"Sure people were dying, but the lack of suspicious circumstances eked away a lot of the import those deaths could have had. Since there was no framework of suspicion and doubt, no focal suspect, no chain of events to follow the impact of the ending was substantially diminished and seemed out of place; tacked on." – Life is Too Short to Read Bad Books