2017: #13 – Birdman (Mo Hayder)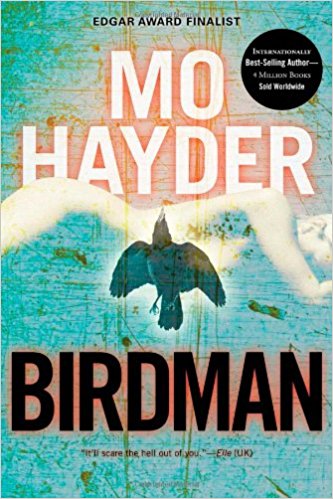 Birdman
by
Mo Hayder
Series:
Jack Caffrey #01
Published by
Grove Press
on July 3rd 2012
Genres:
mystery
,
police procedural
Pages:
352


In his first case as lead investigator with London's crack murder squad, Detective Inspector Jack Caffery is called on to investigate the murder of a young woman whose body has been discovered near the Millennium Dome in Greenwich, south-east London. Brutalized, mutilated beyond recognition, the victim is soon joined by four others discovered in the same area—all female and all ritualistically murdered. And when the post-mortem examination reveals a gruesome signature connecting the victims, Caffery realizes exactly what he's dealing with—a dangerous serial killer.
This was a series recommended to me by my mother-in-law, and this first entry doesn't disappoint. Hayder writes on the darker side of crime fiction, and this book is full of messed up people. Not the least of which is lead detective Jack Caffrey, who carries around a truckload of guilt stemming from the disappearance of his brother when they were children, and who is punishing himself by staying in an unfulfilling, manipulative relationship and nursing an obsession with his backyard neighbor.
Also quite messed up is our antagonist, whose point of view we see often, letting us into the horror of his thinking. Hayder does a good job of making us think we have it all figured out before pulling the rug out from beneath us.
This was a solid thriller, and I'll definitely pick up more of the series.
Other reviews:
"Gripping until the final chapter, this book may start slowly but before you know it you will be unable to put it down." – Traveling Book Junkie
"…one of the main reasons why I'm still determined to read the next couple of books in the series is that Jack Caffery's character is brilliant. Imagine a typical tough and attractive guy with a shady past no one knows about, someone who lives for his work and whose private life is in pieces." – A Backpack Full of Adventures
"Mo Hayder scatters clues throughout the book and then ties all the strings together at the end." – Dot Scribbles