2021: #22 – The Wallflower Wager (Tessa Dare)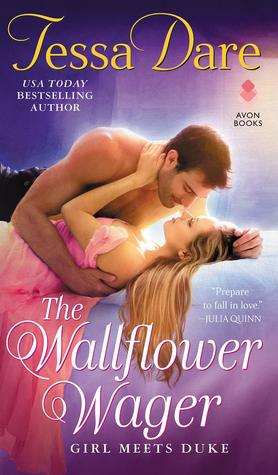 The Wallflower Wager
by
Tessa Dare
Series:
Girl Meets Duke #03
Published by
Avon
on August 13, 2019
Genres:
regency romance
Pages:
353


Also by this author:
The Duchess Deal
,
The Governess Game
Also in this series:
The Duchess Deal
,
The Governess Game
To an undaunted wallflower, he's just the beast next door.

Wealthy and ruthless, Gabriel Duke clawed his way from the lowliest slums to the pinnacle of high society—and now he wants to get even.

Loyal and passionate, Lady Penelope Campion never met a lost or wounded creature she wouldn't take into her home and her heart.

When her imposing—and attractive—new neighbor demands she clear out the rescued animals, Penny sets him a challenge. She will part with her precious charges, if he can find them loving homes.

Done, Gabriel says. How hard can it be to find homes for a few kittens?

And a two-legged dog.

And a foul-mouthed parrot.

And a goat, an otter, a hedgehog . . .

Easier said than done, for a cold-blooded bastard who wouldn't know a loving home from a workhouse. Soon he's covered in cat hair, knee-deep in adorable, and bewitched by a shyly pretty spinster who defies his every attempt to resist. Now she's set her mind and heart on saving him.

Not if he ruins her first.
If I had partial stars to work with, I would rate the first 3 books in this series as The Duchess Deal – 4.25 stars; The Governess Game – 4.5 stars, and this one – 4.0 stars.
Penelope is a fun and unconventional character, which is entertaining to read, but Gabriel is kind of a rollercoaster who doesn't have much depth beyond "used to be very poor, now wants to be very rich and take down everyone he can along the way". The whole premise is a good illustration of what little control women, even noble-born women, have over their lives if they don't have a man attached to them. Penelope is essentially at the mercy of her brother's wishes, no matter what she wants for herself.
Don't get me wrong, this has all the good stuff you want in a romance. I just didn't think it was quite as strong as the other 2 in the series.
Other reviews:
"If you like a hero who is all ruthless and cold hearted on the outside, but by the end of the book you realise he's really all marshmallowey goodness, then Gabriel is the guy for you." — Under the Covers Book Blog
"I don't know if it was due to the witty banter of the characters, the hilarity of the animals, or the originality of the plot line but I couldn't stop laughing or put the book down!" — Harlequin Junkie
"This book is charming and hilarious. You will laugh out loud at the antics of Tessa Dare's characters." — Have Coffee Need Books