2017: #12 – The Last One (Alexandra Oliva)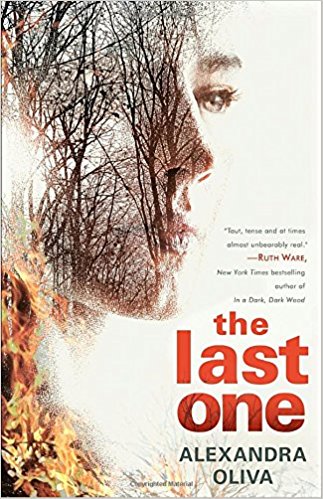 The Last One
by
Alexandra Oliva
Published by
Ballantine Books
on August 15th 2017
Genres:
post-apocalyptic/dystopian scifi
,
science fiction
Pages:
304


Survival is the name of the game as the line blurs between reality TV and reality itself in Alexandra Oliva's fast-paced novel of suspense.

She wanted an adventure. She never imagined it would go this far.

It begins with a reality TV show. Twelve contestants are sent into the woods to face challenges that will test the limits of their endurance. While they are out there, something terrible happens--but how widespread is the destruction, and has it occurred naturally or is it man-made? Cut off from society, the contestants know nothing of it. When one of them--a young woman the show's producers call Zoo--stumbles across the devastation, she can imagine only that it is part of the game.

Alone and disoriented, Zoo is heavy with doubt regarding the life--and husband--she left behind, but she refuses to quit. Staggering countless miles across unfamiliar territory, Zoo must summon all her survival skills--and learn new ones as she goes.

But as her emotional and physical reserves dwindle, she grasps that the real world might have been altered in terrifying ways--and her ability to parse the charade will be either her triumph or her undoing.

Sophisticated and provocative, The Last One is a novel that forces us to confront the role that media plays in our perception of what is real: how readily we cast our judgments, how easily we are manipulated.
This was a book that should have been right in my wheelhouse. A story about a reality show mixed with dystopia? Yes, please! But ultimately, I don't think it fulfilled its promises.
My first problem with it is that the narration style left me feeling very detached from the main character, Sam/Zoo. Some chapters focus on establishing the reality show — what happens at the beginning, and what is happening behind the scenes as the adventure continues. The other chapters are Sam/Zoo wandering on her own, trying to find her way to the end of the game through a world she thinks the producers have created. We're introduced to all of these characters that mean very little in the end.
The second problem I had with it was that it just didn't feel very believable by the end. I could buy her disorientation — something happens to her that makes that part believable — but I couldn't buy her continued drive to complete the game nor her belief that everything she was encountering was created by the show.  There was an uncomfortable amount of focus on a dead/not-dead baby/not-baby. And the ending relies on her misunderstanding a piece of information that shouldn't have been a misunderstanding. It felt like blatant manipulation by the author rather than a honest turn of events.
In the end, I guess the premise was a little too far out for me. I finished it, but I questioned myself along the way.
Other reviews:
"She's taken an incredibly unique idea and executed it in a very ingenious and ambitious way—and I think that boldness paid off in spades." – The BiblioSanctum
"There's a good reality TV novel in The Last One and the makings of a good dystopian story, and I suspect the pairing would work brilliantly for a movie but for me they didn't fit together well here." – Material Witness
"I found the early chapters of The Last One compelling and suspenseful, but my interest began to flag as the story progressed." – Lectito