2018: #12 – A Hundred Thousand Worlds (Bob Proehl)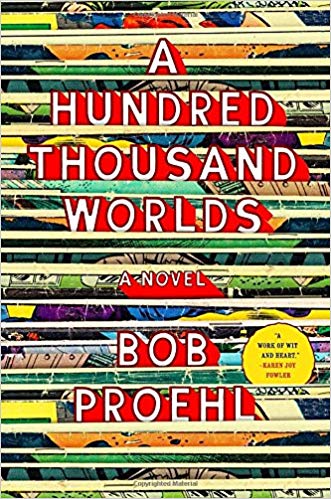 A Hundred Thousand Worlds
by
Bob Proehl
Published by
Viking
on June 28, 2016
Genres:
literary fiction
Pages:
368


Valerie Torrey took her son Alex and fled Los Angeles six years ago—leaving both her role on a cult sci-fi TV show and her costar husband after a tragedy blew their small family apart. Now Val must reunite nine-year-old Alex with his estranged father, so they set out on a road trip from New York, Val making appearances at comic book conventions along the way.

As they travel west, encountering superheroes, monsters, time travelers, and robots, Val and Alex are drawn into the orbit of the comic-con regulars, from a hapless twentysomething illustrator to a lesbian comics writer to a group of cosplay women who provide a chorus of knowing commentary. For Alex, this world is a magical place where fiction becomes reality, but as they get closer to their destination, he begins to realize that the story his mother is telling him about their journey might have a very different ending than he imagined.

A literary-meets-genre pleasure from an exciting new writer, A Hundred Thousand Worlds is a tribute to the fierce and complicated love between a mother and son—and to the way the stories we create come to shape us.
I wasn't really sure how to categorize this book. On its face it looks like it's going to be science fiction, but other than the settings primarily being science fiction conventions, it's really not science fiction at all.
What this is is the story of Val Torrey and her son Alex. Val used to be one of the leads on a very popular science fiction show (think Gillian Anderson on X-files), but has spent the last few years on the down-low, acting in plays in New York and raising her 9 year old son, Alex. Alex's father, the other lead on that show, has been out of the picture, but now he is jumping back in and this means that Val needs to deliver her son to the other side of the country. She stretches out this journey that she doesn't want to make by agreeing to appear at a number of science fiction conventions along the way.
As the two of them travel from place to place, they befriend others on the convention circuit, mostly various comic artists. These artists lend some other perspectives to the story and to the comics industry as a whole, but they really aren't important in the long run. Except maybe Brett, an independent artist who ends up drawing a comic for a story Alex is creating. He serves as support for Alex as his mother falls further into despair the closer they get to California.
The actual plot of the book is interspersed with episodes of Val's TV show, told to Alex by Val as his favorite bedtime stories as they reveal pieces of her/their past to the reader. Those were okay, but there are some other fantastical interludes that I could have done without. I also didn't really find her custody situation believable, but am allowing for some creative license there.
Overall I enjoyed this book. Don't let the science fiction feel of it scare you off.
Other reviews:
"I have to say it was a bit slow going at first; but about halfway through I realized I was invested in each story and wanted to see where they lead." – Bookalicious Babe Book Reviews
"Alex might be the sweetest kid who ever lived, which makes his character difficult to believe. Much of the story is a family drama, but it generates little dramatic tension. Notwithstanding those observations, I was consistently entertained by A Hundred Thousand Worlds." – Tzer Island