2018: #14 – Godmother: The Secret Cinderella Story (Carolyn Turgeon)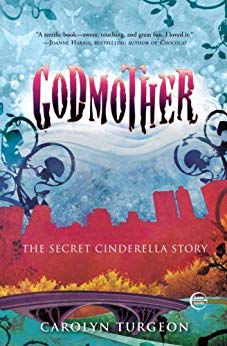 Godmother: The Secret Cinderella Story
by
Carolyn Turgeon
Published by
Headline Review
on March 5, 2009
Genres:
contemporary fantasy
Pages:
288


Open the door into magical New York, and be cast under the spell of this breathtaking story of love, loss and redemption. Carolyn Turgeon's stunning novel is an enchanting new invention of that most beloved of fairytales, Cinderella.

What would you do if you could make dreams come true? If you could ensure that Cinderella met her Prince, that sparks flew, romance blossomed, and most of all, that everyone lived happily ever after?

Be careful what you wish for - because fairy godmothers are as flawed as the rest of us, and temptation is a terrible thing. Meet sweet, well-meaning Lillian, who opens the quiet bookshop in Manhattan's West Village every morning, and whose dark past contains a desperate act, a dramatic banishment, and a guilty secret she has carried with her for centuries. Only one kind deed done for love will break the spell that has kept Lillian from home for so long - but can she succeed in making her own dreams come true at last?
I chose this as a palate cleanser after my last read, and it didn't quite end up as I expected.
This starts out as sort of a retelling of Cinderella, except something has gone terribly wrong. Lil, Cinderella's fairy godmother, fell in love with the Prince instead of Cinderella, and for her troubles she is banished from the fairy kingdom, doomed to live her days in New York City. When she happens upon the opportunity to set up her boss with a young lady she met, she believes setting true love right will be her key back to the kingdom.
The story goes back and forth between present day Lil and fairy Lil, preparing to get Cinderella to the ball. I actually found the fairy parts less interesting, and ended up skimming pieces that didn't seem important to the story. I enjoyed the present day story more, even if Lil did a bit of wandering and acted inconsistently at times. One silly thing that bothered me was that one minute she would be doing something that required money, and the next she would be talking about how she couldn't even afford to buy herself a full meal at the diner.
I will give the author credit — I didn't see the twist coming until it was practically there. Things got very dark, very quickly, and it was unexpected! In hindsight, I maybe should have seen it, but my ability to suspend disbelief is strong.
Overall, this wasn't bad, but it wasn't what I expected. So if you're expecting a happy love story, you might want to look somewhere else….
Other reviews:
"I found myself enjoying the modern scenes set in Manhattan much more than the slowly evolving story of Cinderella." – nomadreader
"I enjoyed the first 250 pages. It was a nice blend of reality and fantasy. The ending, however, completely destroyed the book for this reader." – Bookfoolery
"In the end, while the story was well-intentioned and the pitfalls of bad decisions greater and darker than the cover or summary let on, this really wasn't the book for me….but that doesn't mean you shouldn't have a go at it!" – Satisfaction for Insatiable Readers