2019: #18 – Long Time Coming (Robert Goddard)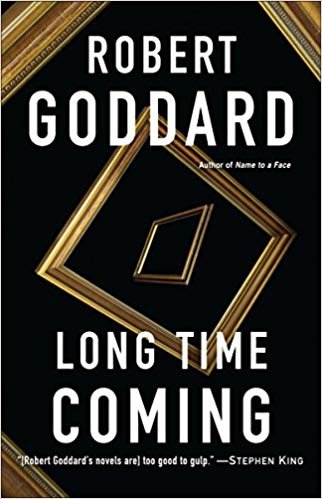 Long Time Coming
by
Robert Goddard
Published by
Bantam
on March 2, 2010
Genres:
historical mystery
Pages:
432


Stephen Swan is amazed when he hears that the uncle he thought had been killed in the Blitz is actually alive. For nearly four decades, Eldritch Swan has been locked away in an Irish prison and now, at last, has been released. Shocked and suspicious, Stephen listens to the old man's story and is caught up in a tale that begins at the dawn of World War II, when Eldritch worked for an Antwerp diamond dealer with a trove of Picassos—highly valuable paintings that later disappeared. Stephen, who finds his uncle by turns devious, charming, and brazen, then meets Rachel Banner, a beautiful American who may have inherited the Picassos—and is determined to see justice done for her family. But in this tale of revenge and redemption, justice is the ultimate illusion. Eldritch, Stephen, and the woman Stephen has fallen in love with soon find themselves fighting for their lives—against sinister forces still guarding a secret that must never be revealed.
This was my first experience with Goddard. The story's premise is interesting — Stephen Swan unexpectedly finds out that the uncle he thought was dead, Eldritch, has instead been in an Irish prison for the last 40 years. Except no one, including Eldritch, will tell him why. Consumed by his curiosity and concerned for his mother's safety, Stephen takes it upon himself to keep tabs on Eldritch. When Eldritch is approached by a lawyer with a proposal he can't refuse, Stephen is sucked into the mystery with him. If they can prove that a set of Picassos belonging to Eldritch's former employer were faked and then stolen, Eldritch can clear his name.
I thought the mystery was winding and interesting. The book jumps back and forth between the story's present day (1976) and 1940, when Eldritch was imprisoned. Along the way they are able to connect with not only people from Eldritch's past, but some of their children. Sometimes it's a little too convenient, but that didn't pull me out of the story.
Overall I enjoyed this, but it was very slow moving and took me longer to read than I expected. But the story is surprisingly easy to follow, considering the time jumps. Many of the reviews I've seen say this isn't Goddard's best, so I'm looking forward to see what else he has to offer.
Other reviews:
"So, the strapline on this novel is: For thirty-six years, they thought he was dead … They were wrong. My personal version is: For thirty-six years, they thought he was dead … Lord, but I wish he had been." — Vulpes Libris
"Long Time Coming is a great, deeply distracting read. It's the sort of book you pick up and don't want to put down until the mystery is solved." — MostlyFiction Book Reviews
"Long Time Coming is no mere whodunit but a genuine novel of suspense, peopled by three-dimensional characters living in a moral universe painted in shades of gray." — Mal Warwick's Blog on Books