2019: #19 – 13 Minutes (Sarah Pinborough)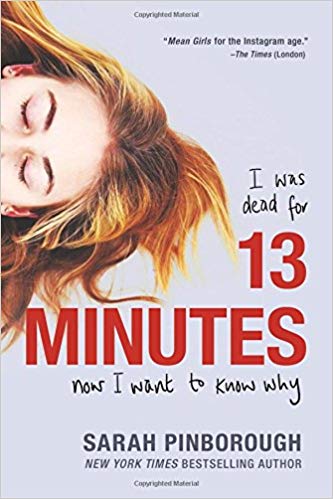 13 Minutes
by
Sarah Pinborough
Published by
Flatiron Books
on October 3, 2017
Genres:
y/a mystery/thriller
Pages:
343


Natasha's sure that her friends love her. But does that mean they didn't try to kill her?

Natasha is the most popular girl in school. So why was she pulled out of a freezing river after being dead for thirteen minutes? She doesn't remember how she ended up in the icy water that night, but she does know this—it wasn't an accident, and she wasn't suicidal.

Now Natasha's two closest friends, who are usually her loyal sidekicks, are acting strangely. Natasha turns to Becca, the best friend she dumped years before, to help her figure out the mystery.

At first Becca isn't sure that she even wants to help Natasha. But as she is drawn back into Natasha's orbit, Becca starts putting the pieces together. As an outsider, Becca believes she may be the only one who can uncover the truth…which is far more twisted than she ever imagined.
This book made me glad that I'm not a teenager anymore! Basically every girl in this book was a bitch except for one, and that includes the main character.
Becca is basically the goth girl in her grade, despite formerly being friends with the ultimate Barbie, Tasha. But when Tasha is pulled from the cold river, nearly dead, Becca doesn't hesitate to run to her side. Tasha seems eager to have her back in her life, no longer completely trusting her other besties, Hayley and Jenny. So eager that she asks Becca to help her figure out how she ended up in the river.
Becca is torn between not trusting Tasha's motives and longing for the friendship they once had (and the belonging that being in Tasha's good graces leads to). But Becca is not immune from being a mean girl — she doesn't treat the other people in her life much better than Tasha does.
There are a lot of twists and turns in this story, and though I wasn't completely surprised by the who in the whodunnit, I was surprised by how it all ended. I would definitely read another book by this author.
Other reviews:
"Both Tasha and Becca are clever young women who share a love for chess playing and solving puzzles, but to be a good strategist also means keeping a lot of secrets, and between them there are plenty of hidden motives. These are gradually revealed as the tale unfolds, holding me rapt with every new development." — The BiblioSanctum
"I am unable to recall a story that both baffled and impressed me in such a way, but one thing is certain, that my admiration for Ms. Pinborough's skills reached new heights and confirmed her in the "must read everything she writes" position she already enjoyed." — Space and Sorcery
"While I guessed the 'ending', the continued story threw a big curve ball that kept the interest flowing. I loved that it was able to catch me off guard. However, with all the ups and downs and the false ending part way through the book, I felt the real ending was a bit of a let down." — #NerdProblems